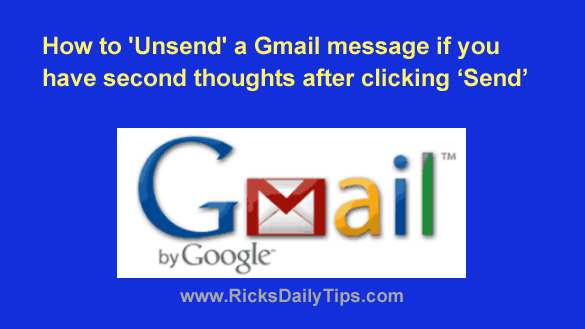 Have you ever clicked the "Send" button after composing an email and immediately realized that you had sent the message to the wrong person?
Or perhaps you have sent an angry response to an email, only to regret it just as soon as you clicked "Send"?
Things like this happen to most of us at times, and it's never a good feeling when they do.
Luckily, Gmail has a nifty feature called "Undo Send" that gives you up a few seconds to change your mind after clicking the "Send" button. 
I realize that a few seconds isn't a long time, but I can recall several instances in the past where having a few seconds to change my mind would have come in mighty handy!
It's very easy to "unsend" a Gmail message. Here's how:
After you've composed your email and clicked the "Send" button, a button will pop up on the screen with the a link labeled "Undo" on it.
Note: Depending on your browser the button might pop up at the bottom or the top of the Gmail window.
Click the Undo link and the message will not be sent. You will instead be taken right back to the "Compose Message" screen where you can make changes to the message, or simply delete it.
That magic "Undo" button has been popping up for quite some time now, but many folks have simply never noticed it.
Remember, you only have a few seconds to click the "Undo" link. Once the word Undo disappears you'll no longer be able to "pull" the message back.
For better or for worse, it will be delivered to the recipient(s) after those precious few seconds have elapsed.
---
Never miss a tip!  Click here to sign up for my free Daily Tech Tips Email Newsletter!