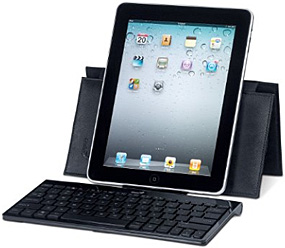 Mobile devices have changed the way we use technology more than perhaps any other innovation in history. They have truly been a game changer in my opinion.
There's a great deal of freedom and empowerment that comes from being able to pull a computer that's more powerful than a vintage desktop PC literally out of a shirt pocket and use it for virtually any task one can think of.
But as powerful and empowering as they are, mobile devices have always had one serious drawback: the lack of a truly usable mechanical keyboard. And as I'm sure you are aware, there are times when we really need one. 
A number of portable Bluetooth keyboards have been released to fill that void, but many of them only work with a single type of device (an iPad for instance). That's not the case with the Genius LuxePad 9100
  (#ad) however.
This utra-thin keyboard works with a wide range of devices that run iOS, Android, and even Microsoft Windows!
While the LuxePad 9100 isn't a full-size keyboard, it is plenty large enough to type on without having to hunt, peck and swipe on a tiny virtual keyboard. The small size and weight makes it easy to carry along with you, and since there are no wires to connect you can be using it in seconds.
As a welcome bonus, the foldable, adjustable leather carrying case doubles as an excellent stand for your tablet or smart phone!
If you've been looking for a portable, affordable, and easy to use Bluetooth keyboard that works with ALL of your mobile devices, I believe the Genius LuxePad 9100 deserves a serious look.
Click here
  (#ad) to check it out on Amazon.