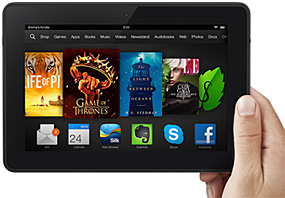 Amazon has just announced a free financing deal on their popular Kindle Fire HDX tablets. It works like this:
1 – Choose the Kindle Fire HDX you wish to buy and add it to your cart.
2 – Complete the checkout process where you'll be charged 25% of the purchase price plus applicable taxes and shipping charges. Your Kindle Fire HDX will be shipped to you right away. 
3 – The remaining three installments will be automatically charged to your credit card every 90 days without you having to worry about it.
This amounts to a year of absolutely free financing on one of the best tablets on the market. If you've been planning to save up for a Kindle Fire HDX, now you won't have to. It's hard to beat a deal where someone lends you money for a year at zero interest with no extra fees or credit check!