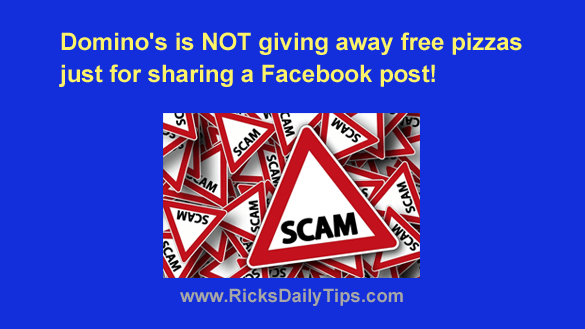 Free giveaway hoaxes are nothing new to Facebook, and several of the most annoying ones seem to pop up over and over again.
Unfortunately, one of the most enticing giveaway hoaxes ever is currently making the rounds yet again.
This one is being spread by unsuspecting users sharing a hoax Facebook post claiming that anyone that shares the post will receive a free large Domino's pizza.
Most everyone is up for a free pizza so it's no surprise that this hoax always spreads quickly every time it starts making the rounds again.
As usual, there are several variations of this hoax message, but the gist of the message is always the same: "Share this post to claim your free Domino's pizza!"
Some of the hoax messages are nothing more than simple text. Others are in the form of extremely realistic-looking coupons.
Either way, rest assured that it's a hoax.
Bottom line: If you see any type of Facebook post claiming you'll receive a free Domino's pizza if you share the post, it's a hoax! The best thing to do is simply ignore it.
Whatever you do, don't share it because you will NOT receive a free pizza if you do.
All sharing it will do is help spread the hoax to all of your friends and countless other innocent Facebook users.
---