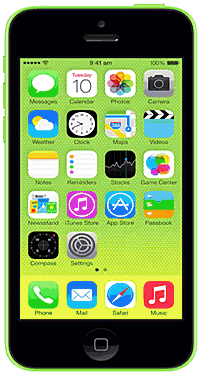 Question from Sherry K.:  My iPhone 5c hangs up on me about once a week. By hangs up I mean it just stops responding to taps, swipes or button presses. In other words, it just freezes up, and it does it at random times.
The only way to get the phone to work again is to let the battery die completely since I can't remove the battery like I did when my Android phones would hang up.
Is there a way to force an iPhone 5c to shut down without having to drain the battery?
Rick's answer:  Yes Sherry, there is a way to force an iPhone 5c to shut down (and then restart) in most situations. Here's how:
1 – Press and hold the Power button and Home button at the same time.
2 – When you see the apple, release the buttons and the phone should power down and then restart. This method is a lot better than just allowing the battery to die.
I recommend taking your phone in and having it checked out. It could be something as simple as a rogue app that's causing the hang-ups, but it could also be a hardware problem.
And by the way, I too like the way you can simply remove the battery when most Android phones freeze up on you. I guess Apple wants you to simply trash your iPhone 5c when the battery goes bad, but you can in fact replace it. Here's a short video that shows how to do it:
Update from Sherry: Thanks for your help Rick. I tried what you suggested, and it worked. I took the phone in and they tested it. Turns out it was a game that my son had downloaded. They removed it, and so far the phone is running perfectly. Thanks again!!!
Bonus tip: This post explains how to free up your iPhone's memory by having it delete old iMessages every 30 days.
---
Do you have a tech question of your own for Rick? Click here and send it in!
If you think your friends would like this post, I'd love you to share it! Thanks a bunch!