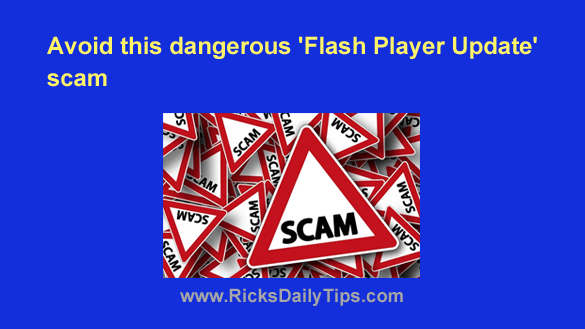 Adobe Flash was one of the world's most widely used computer and web-based tools for decades.
In fact, if you had a Windows PC or a Mac you probably used Flash in one way or another every time you turned your computer on.
But there was a big problem with using Flash: The Flash platform itself was extremely insecure, and that made it a favorite tool of hackers as well as legitimate programmers.
Over the years Adobe released countless updates to patch Flash's security holes as they were discovered, but the hackers always seemed to find new holes to exploit soon after each update was released.
Adobe finally put Flash in its coffin on December 31, 2020 by officially ending support for it, and on January 12, 2021 they covered up the grave by blocking any content from running in existing Flash Players.
In short, Flash is now dead. You can no longer get it from Adobe, and if it's still on your computer you can't use it.
One would think this would put a stop to scammers trying to use Flash to scam potential victims, right? Well, unfortunately that isn't the case.
Yet another round of Flash-related scams has started making the rounds again, and has always been the case this new round of scams is arriving in the form of fake "Flash Update" notices.
These fake update notices are being distributed in many forms, but here are a couple of screenshots that show the two you're most likely to be targeted with:
Variation #1…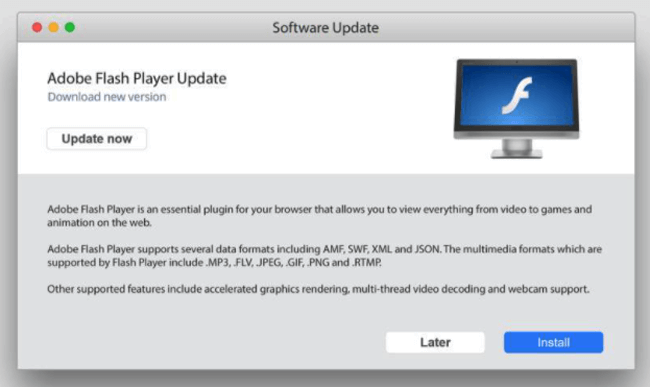 Variation #2: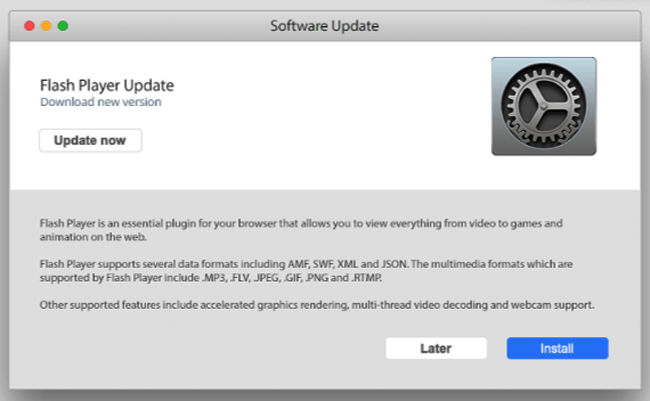 If you see one of these notices (or something similar) pop up on your screen or arrive in an email you can rest assured that it's a scam.
Again, Flash Player is now officially dead and Adobe is no longer releasing updates for it. That means any update notices for Flash are obviously fraudulent.
You should avoid clicking any links or buttons in these messages because that click will almost certainly result in malware being downloaded onto your machine.
If a fake Flash Update notice arrives in your email you can simply delete it and forget about it (assuming you don't click any links or buttons contained within it!).
However, if it just pops up on your screen there's a real possibility that your system is already infected with malware and the malware is responsible for displaying the fake notice.
If that happens to you I strongly recommend that you thoroughly scan your computer for viruses and other forms of malware.
Bottom line: Flash is no longer being supported, and indeed it no longer even works.
If you receive a notice of any kind telling you that your machine's Flash Player is out of date and it needs to be updated you can rest assured that it's a scam. I recommend that you act accordingly.
Note: Flash Player has probably already been removed from your system, but if it's still on there it would probably be a good idea to go ahead and remove it now.
You can check to see if Flash is still on your computer by visiting this page with every web browser that's currently installed on your system. If Flash is on there it will tell you.
If it turns out that Flash is still installed on your computer this page on the Adobe website has instructions for uninstalling it (see item #5).


---