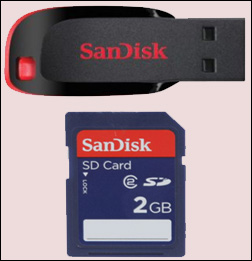 If you're like me you probably have several old flash memory devices laying around. In fact, I have three USB thumb drives and two SD memory cards sitting on my desk at this very moment.
Do they all work without having any dead memory cells? They sure do, and I know that for a fact because I just tested them with a great free download called Flash Drive/Card Tester.
Flash Drive/Card Tester is extremely easy to download and use. Here's how: 
1  – Visit this page and click the green Download button.
2 – Run the self-extracting installer.
3 – Insert one or more USB flash drives and/or flash memory cards that you wish to test into your PC's USB ports / card reader, then run Flash Drive Tester. Important: Any data currently on a drive/card that is to be tested will be erased by the test, so copy it off onto another drive before proceeding.
4 – Click the button labeled Refresh. This will detect all the flash memory devices that are currently plugged into your PC and place then in the drop-down list to the left of the button. If the drive you wish to test isn't showing up in the list, format it in 'Computer' and then click Refresh again.
5 – Click the "Down Arrow" and select the USB flash drive or memory card you wish to test.
6 – For "Select test type", choose Write, read and compare.
7 – Click Start test. A series of test data will be written to the entire memory device, then read back and compared for errors (mis-matches). The entire testing process could last several minutes depending on the storage capacity of the device being tested.
8 – When the test is complete, the "Error count" section at the bottom of the window will tell you how many errors the test found. If any errors at all were found, I suggest disposing of the drive to keep from accidentally using it to store important files. These days flash memory devices are so cheap that it makes little sense taking a chance on using a bad one.
You should now see something like this after the test has finished: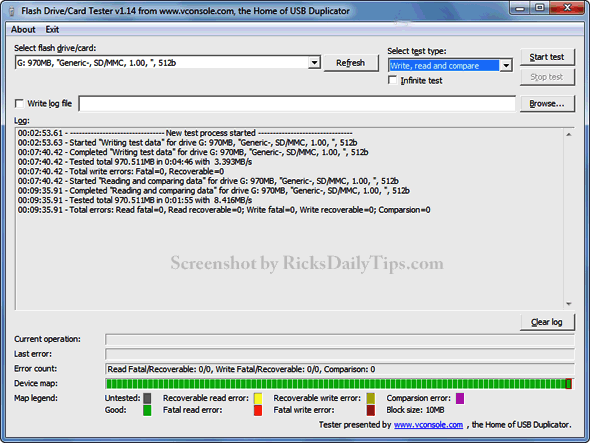 9 – If you wish to test another drive, make sure it's plugged into the PC then start over beginning with step 4.
Conclusion: Now you can be sure that your flash memory devices are good before using them to store your important files by testing them with Flash Drive/Card Tester.