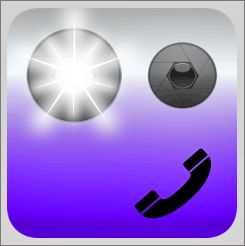 Do you often miss incoming calls because your Android phone is on mute and you don't realize that someone is trying to call you?
Sure, the screen will come on and let you know there's a call coming in, but unless you're relatively close to the phone (and happen to be looking at it), it's very easy to miss the visual alert – and hence you miss the call.
Well, there's a simple way to ensure that you never miss the visual alert for another incoming call. All you have to do is install a handy free app called Flash On Call. 
When Flash On Call detects that your phone is receiving a voice call, it flashes the phone's camera flash to let you know about it. And as you probably already know, your camera's flash is very bright. It will be quite difficult to miss the flash alert even if you aren't looking directly at the phone or if it's physically located on the far side of the room!
I downloaded this app a couple of days ago and I've been testing it on my Samsung phone ever since. Simply put, it works like a charm!
You can download the Flash On Call app for free from the Google Play Store. Just open the Play Store app and search for Flash On Call. There are several apps in the Play Store by that name, but the one you want to install was written by Kostadin Tonev.
Like this post? If so, you can get even more tips in my weekly RicksDailyTips Email Newsletter. Sign up for free at the bottom of this page!