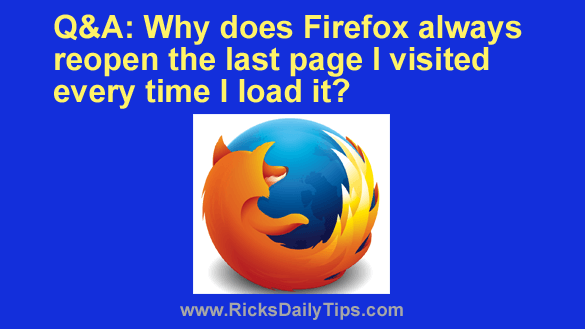 Question from Marc:  Beginning last Tuesday, every time I load Firefox it opens the page that was open when I quit the previous session. It's really irritating.
I must have done something wrong, but I don't know when or how. Can you tell me how to get Firefox to always open my home page every time it loads?
Rick's answer:  Marc, somehow a key setting has been changed that's causing Firefox to behave that way, but luckily it's very easy to fix. Here's how: 
1 – Open Firefox and click the Menu icon in the upper right-hand corner of the window (it looks like 3 horizontal lines stacked atop one another).
2 – Click Settings.
3 – Select the General tab in the left-hand pane and then uncheck the box beside Open previous windows and tabs.
4 – Click the Home link over in the left-hand column and set the "Homepage and new windows" setting to the web page you want to open every time you launch Firefox.
5 – Click the X in the top-right corner of the Firefox window to exit the browser.
That's all there is to it. From now on Firefox should open with your preferred home page displayed in the browser window.
I hope this helps, Marc. Good luck!
Update from Marc:  Thanks, Rick. That fixed it. I appreciate your help!
---