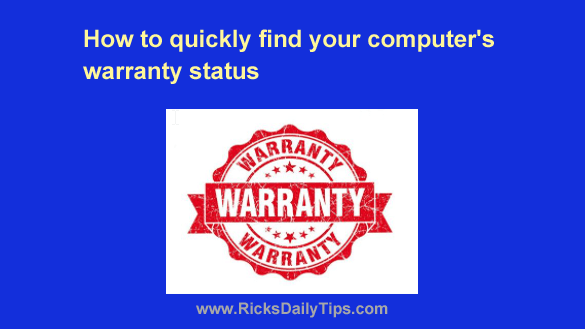 Truth be told, modern home computers are generally pretty reliable.
In fact, most of the laptops and desktop computers that are sold today will still be working fine when software advances eventually make their hardware components obsolete.
But that being said, some machines will inevitably end up needing some type of covered repair before the warranty expires.
And guess what? Yours could well be one of them.
The thing is, very few computer owners know when the warranties on their machines are scheduled to expire.
What's more, most folks have no clue whether their computers are even still covered under the manufacturer's warranty at all!
Do you know when the warranty on your computer is going to expire? Do you even know whether the machine is still covered by the warranty at all?
As a computer tech I can tell you that the warranty status of your machine is an extremely important piece of info to have on hand. Here's why…
If your computer starts having issues but still operates well enough to get by, it can be tempting to put off having it checked out.
But I can tell you from decades of experience that procrastination in a situation like this could end up being quite costly if you keep putting it off until after the warranty has expired.
If you know exactly when your machine's warranty is set to expire you can expedite the request for service and (hopefully) get it checked out and repaired while the repair is still covered under the warranty.
And that could end up saving you some major bucks after all is said and done.
Luckily, there's an easy way to check the warranty status of most every popular brand of laptop and desktop computer…
Simply visit the manufacturer's website and plug your machine's serial number or service tag number (whichever number that manufacturer asks for) into a form on their "Check Warranty Status" page. You won't even need a copy of your receipt!
You could easily find your computer manufacturer's "Check Warranty Status" page by searching for it on Google or by searching for it directly on the manufacturer's website, but to make things easy I've posted the direct URLs to those pages for the most popular computer brands in the list below.
Just click on the link for your computer brand and enter the requested info and you'll instantly be presented with your computer's current warranty status.
Computer Brand – URL
Acer – https://www.acer.com/ac/en/US/content/system-information
Apple – https://checkcoverage.apple.com/
Asus – https://www.asus.com/us/support/warranty-status-inquiry/
Dell – https://www.dell.com/support/home/
HP – https://support.hp.com/us-en/checkwarranty
Lenovo – https://pcsupport.lenovo.com/us/en/warrantylookup#/
Microsoft – https://support.microsoft.com/en-us/topic/644472b2-df94-41c7-a67d-2ac6577fc5f3
MSI – https://us.msi.com/support/technical_details/product-warranty-related
The pages linked to above will provide the warranty status for most any laptop or desktop computer, but some of them will provide the warranty status for other devices such as printers and monitors as well. You can always give it a try.
Bottom line: Knowing exactly when your computer's warranty is set to expire can come in real handy if your machine starts giving you trouble during the warranty period.
The pages linked to above will make finding your computer's warranty status quick and easy.
---
Never miss a tip!  Click here to sign up for my free Daily Tech Tips Email Newsletter!