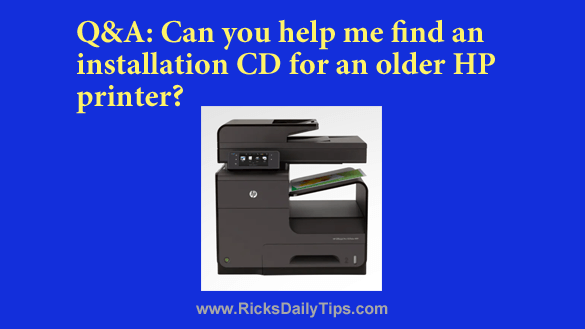 Click here to sign up for my free Rick's Tech Tips Newsletter!
---
Question from Alice:  My boss just bought a new multifunction printer to replace the HP Officejet Pro X576dw printer that we've been using in the office for years.
The old one is still working well and he asked me if I wanted it. I jumped at the chance!
I really love this printer because I'm very familiar with it and I know how to use all its features (like I said, I've been using it for years).
The problem I'm having is we've lost the CD the printer software came on so I can't install the printer driver and other software onto my computer (Dell Inspiron desktop with Windows 10).
Do you know of a place where I might be able to buy a replacement CD for this printer? I looked on Ebay and Craigslist and nothing came up.
Rick's answer:  That's a great printer, Alice. The fact that it's still working well after all these years in an office environment proves it.
To answer your question, I don't know of any place where you can purchase a disc containing the software for that particular printer, but the good news is you don't need one.
All you need to do is download the software directly from the "Support" section of the HP website and then install it on your PC.
I pasted your printer's model number into the website's Search box and found the software you need.
Just visit this page and click the "Download" link for this option:
HP Officejet Pro X576dw MFP Full Software Solution (Recommended)
After the installation file is downloaded onto your computer you can run it to install the software and driver for the printer.
I hope this helps, Alice. Good luck!
Update from Alice:  Thanks so much for your help. It never occurred to me that HP would still have the software for such an old printer.
I downloaded the software and installed it and the printer (and scanner) are now working perfectly!
---
Cick here to ask me a tech question.