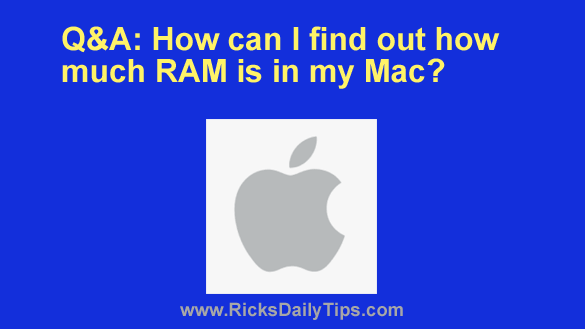 Question from Randy:  I have a two year old Mac desktop computer that runs great, but I heard Macs run a LOT faster if they have at least 16GB of RAM installed.
I'd love to upgrade mine to 16GB if it currently has less than that in it.
The thing is I have no idea how much RAM is in it right now. How can I find out? 
Rick's answer:  I'll be glad to help you with this, Randy. Just follow the steps below to quickly find out how much RAM is in your Mac:
1 – Click the Apple icon in the top-left corner of the screen, then select About This Mac from the menu.
2 – Select the Memory tab.
You should now see a box listing the total amount of installed RAM as well as how much is installed in each memory slot and the type of RAM sticks your Mac uses.
3 – If you feel like your Mac really could use more RAM you can click the Memory Upgrade Instructions link to get detailed info about what you'll need to get in order to perform the upgrade.
That's all there is to finding out how much RAM is currently installed in your Mac.
Now all of the above being said, I'm not sure I agree that your Mac would run a LOT faster if it has 16GB of RAM inside it.
While more RAM is always better, if your Mac already has 8GB of RAM installed (and chances are it does) adding another 8GB probably won't speed it up all that much unless you use something like Photoshop or a video editing program that consumes a lot of resources.
If all you do is use things like Facebook, YouTube, email and a web browser, I believe 8GB is plenty.
Again, you can always add more if you really want to. And truth be told, you'll likely see a modest increase in system speed if you do.
However, I'm not sure the minor benefit you would receive would justify the cost of the upgrade.
Please don't think I'm trying to talk you out of a desired upgrade, because I'm not. Like I said above, more RAM is always better.
I'm simply letting you know about what you can expect in terms of a performance boost if you upgrade your Mac's RAM from 8GB to 16GB.
Whatever you find out and ultimately decide, I wish you all the best!
Update from Randy:  Thanks for the help, Rick. I ran the check and found out my Mac already has 16GB of RAM in it. I think I'll just stick with what I have.
---