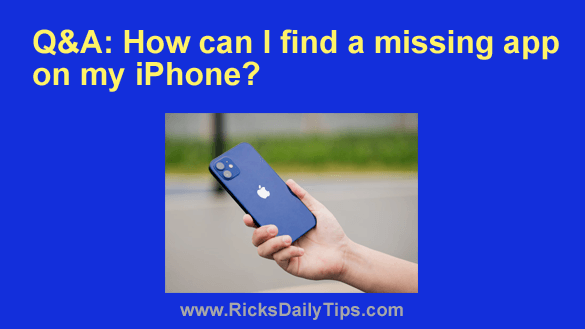 Question from Mariana:  I installed an app on my iPhone but I can't find it.
I thought new apps always went on the Home screen, but this one didn't.
How can I find it so I can add it to my Home screen?
My phone is an iPhone 12 with iOS 15. 
Rick's answer:  Mariana, there are several ways to find a "missing" app on an iPhone, but the easiest way is to just search for it in the App Library. Here's how:
1 – While on the Home screen, swipe left to display the App Library.
Note: If you have more than one Home screen, keep swiping left until you see the App Library.
2 – Tap inside the App Library search box to launch the on-screen keyboard.
3 – Start typing the name of the app you're looking for into the search box. After the app appears in the list of search results, stop typing.
4 – Tap and hold the app's icon and drag it to an edge of the screen. That will place the app's icon on your iPhone's last Home screen.
5 – (Optional) If the icon is on a secondary Home screen you can drag it to the left and place it on the primary Home screen.
That's all there is to it. You should now see the icon for the new app on your iPhone's Home screen.
I hope this helps, Mariana. Good luck!
Update from Mariana:  Found it! Thanks.
---