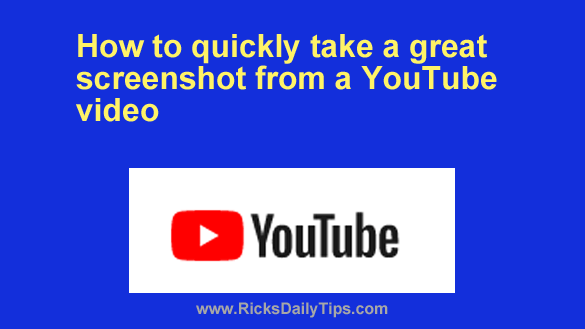 If you've ever tried to capture a screenshot from a YouTube video you know how difficult it can be to find just the right frame to capture.
Unless your timing with the "Pause" button is absolutely perfect it can take quite a while to find a frame that will look great as a screenshot.
Well, I'm about to give you a little tip that will make finding just the right frame almost as easy as finding a grain of sand on a beach.
Just follow the steps below and you'll have a fantastic screenshot captured in record time:
1 – Pause the video in the general area of where you want to take the screenshot from.
2 – Use the , (comma) and . (period) keys to advance the video to the next frame.
Note: The comma key will back the video up and display the previous frame. The period key will advance it forward to the next frame.
3 – Once you find the frame that you want to capture as your screenshot you can go ahead and press the Print Screen key to capture it.
Pretty simple, right?
By the way, if you pause the video and realize you missed the place where you really needed to pause by a few seconds you can easily adjust the pause without having to go frame-by-frame to get there. Here's how:
1 – Press the keyboard's left arrow key to jump back five seconds or the right arrow key to jump forward five seconds.
2 – Once you get close to the frame you want to capture, start using the comma and period keys to move the video frame by frame until you find the exact frame you want to use for your screenshot.
That's all there is to it. Now you know how to quickly find the perfect frame for taking a screenshot from a YouTube video!
Bonus tip: This post explains how to watch a YouTube video in slow motion.
---