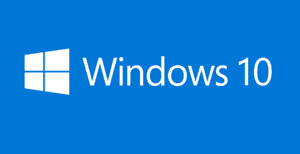 Many of the tips I post on this blog require pasting content into a "Command Prompt" window.
That's really no big deal because we could always right-click and then click Paste, but many of us prefer pasting with the much faster CTRL-V key combination.
The problem with Windows has always been that CTRL-V simply didn't work at the Command Prompt. Instead, we had to paste using the mouse. 
Thankfully, that has now changed because Microsoft has finally gotten around to adding the CTRL-V key combination to the Command Prompt window in Windows 10, making copying and pasting so much easier!
As a bonus, they have also added some other new nifty features to the bland and boring Command Prompt window. Follow these steps to check them out:
1 – Press the Windows+R key combination to open a "Run" box.
2 – Type cmd, then press the Enter key. The Command Prompt window should appear.
3 – Right-click the icon in the upper left-hand corner of the window and select Properties from the drop-down menu.