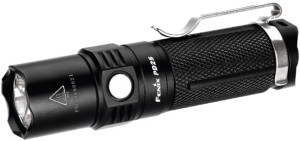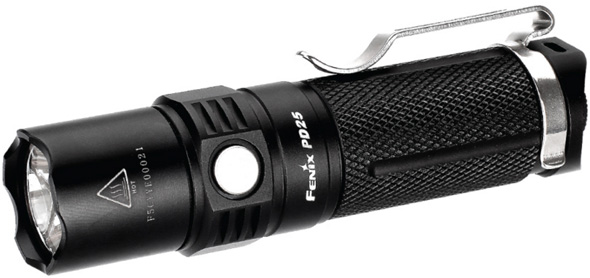 Regular readers of this blog know that my interests in the computer and electronics fields vary quite a bit. If it has a chip in it, I'll probably find it interesting.
Well, I recently received one of the most interesting electronic items I have ever received for testing and review: a Fenix PD25 550 Lumen LED Tactical Flashlight. (#ad)
I know, you're probably thinking what could be so interesting about something as mundane as a flashlight? Well let me tell you, this thing is far from your typical flashlight! 
The PD25 is about the size of an over-sized tube of lipstick. It fits comfortably in your hand, and the knurled texture on the outside of the aircraft-grade aluminum body make it easy to grip, even when wet. And speaking of being wet, this flashlight is waterproof so you can even use it outdoors in the rain.
But as much as there is to love about the look and feel of this light, even more impressive is its functionality.
Although it uses a single LED to produce the light, this amazing flashlight puts out a mind-blowing 550 Lumens. To put that into perspective, a typical double D-cell flashlight emits 20 Lumens or less. This is easily the brightest flashlight I have ever seen for its size.
550 Lumens is the maximum setting, which produces the greatest amount of light. You can actually choose between five modes, which are listed below along with the estimated battery life for each mode and battery type:
Turbo: CR123A Battery: 400 Lumens – 1 hr. 10 min.; rechargeable battery: 550 Lumens – 35 min.
High: CR123A Battery: 150 Lumens -3 hr. 15 min.; rechargeable battery: 150 Lumens – 2 hr. 25 min.
Mid: CR123A Battery: 50 Lumens – 9 hr. 5 min.; rechargeable battery: 50 Lumens – 7 hr. 10 min.
Low: CR123A Battery: 5 Lumens – 100 hr.; rechargeable battery: 5 Lumens – 53 hr.
Strobe: CR123A Battery: 400 Lumens; rechargeable battery: 550 Lumens
By the way, the strobe setting on this light is really something else. It would easily temporarily blind an attacker in my opinion, and that's a handy feature to have in this day and age.
Here is a larger view of the Fenix PD25 Tactical Flashlight: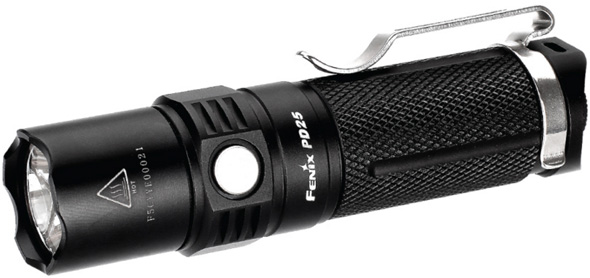 The brightness of this flashlight shocked me. I already knew from reading the item descriptions on Amazon (#ad) and the Fenix website that it put out plenty of light, but I simply wasn't expecting this thing to be as bright as it is at the highest power setting. I have a feeling that it'll shock you as well.
Perhaps the most amazing thing about this light is how it runs on just a single 3 volt CR123A type battery! It's hard to imagine a flashlight producing this much light using just one small battery, but trust me – it does!
The light I received for review came with two non-rechargeable Lithium batteries, but Fenix also sent along a pair of ARB-L16-700 16340 rechargeable batteries (#ad) and a charger.
Bottom line: If you've been looking for a flashlight that's small enough to fit in any pocket or purse, yet extremely bright and durable and water-proof, you owe it to yourself to check out this Fenix PD25.
Click here (#ad) to read more about the Fenix PD25 550 Lumen LED Tactical Flashlight at Amazon.
Bonus tip: Want to make sure you never miss one of my tips? Click here to join my Rick's Tech Tips Facebook Group!
---
Do you have a tech question of your own for Rick? Click here and send it in!
If you found this post useful, would you mind helping me out by sharing it? Just click one of the handy social media sharing buttons below.