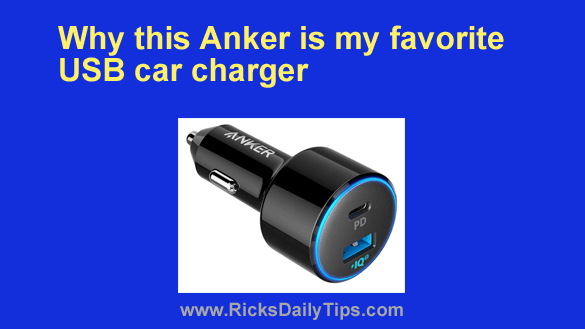 Note: The links in this post are affiliate links.
Like most people, I've never really been blown away by a particular car charger. I mean, they're all pretty much alike, right?
Well, they are as long they work.
But truth be told, that changed when I discovered this true gem of a charger from Anker.
The Anker 49.5W PowerDrive Speed+ 2 Car Charger is without a doubt the best charger I have ever seen.
This charger pumps out 30 watts of power which is enough to quickly (but safely) charge two devices at once – even tablets.
The USB-type A charging port is compatible with all of your older devices and the USB-C Power Delivery (PD) port with charge most portable device you own as long as you have the right cable.
Anker is known for the high quality of their products. In fact, I've found their USB chargers to actually be better designed and more durable than most of the chargers that are sold by the phone and tablet manufacturers themselves.
They also stand behind their products. If any item you purchase from them stops working within the warranty period getting a replacement is fast and easy.
Sure, there are more expensive car chargers out there, but I have yet to try one that performs better than this one, even at three or four times the price.
Bottom line: If you're looking for a car charger that looks great, is easy to use even in the dark and is built to last, I recommend that you give this little gem a try.
Click here to read more about the Anker 49.5W PowerDrive Speed+ 2 Car Charger at Amazon, including over 5,200 overwhelmingly positive user reviews.
---