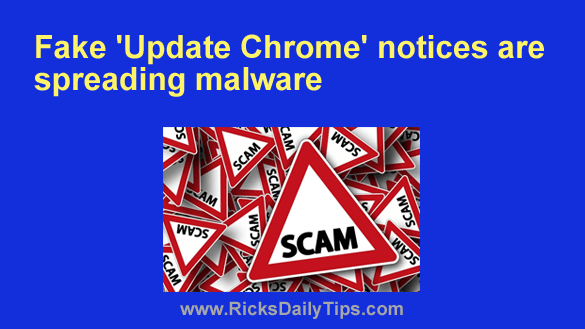 Our friends over at Bleeping Computer have alerted their readers to a very dangerous Chrome Update related scam that's making the rounds right now.
I won't go into the details here because Bleeping Computer explains how the scam works much better than I ever could.
I recommend that you click over there and read it if you're interested in the details.
If not, just remember this: Never attempt to update Chrome or any other browser via a third-party website. Always install any pending browser updates manually using the update tool that's actually built into the browser. 
Most browsers are updated via the browser's "About" page. For example, to check for pending updates for Chrome you would follow these steps:
1 – Open Chrome and click the three dots in the top-right corner of the window.
2 – Click Help > About Google Chrome.
The moment you land on the About page Chrome will check for pending updates. If an update is available it will be downloaded automatically. You will then be prompted to relaunch Chrome to finish installing the update.
The update process works much the same way for other browsers as well. Just go into the settings and navigate to the "About" page and the browser will take it from there.
Again, if you receive any type of warning that you need to update your browser, it's best to assume that it's a scam. But just to make sure you can use your browser's own update tool to check for and install any pending updates.
If you need instructions for checking for pending updates for a different browser just let me know and I'll be happy to help.
---