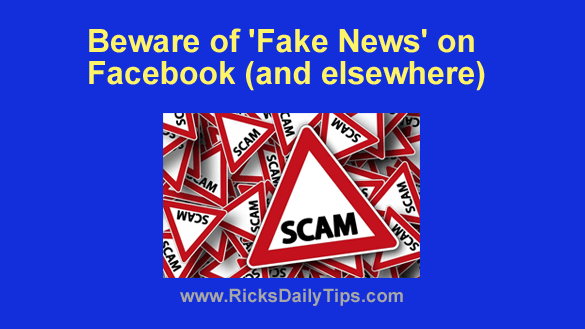 A recent study have found that almost half of all Americans get their news from Facebook.
That's a startling number, and it's even more startling that almost two-thirds of millennials use the social media giant as their primary news source.
There's nothing inherently wrong with an Internet company delivering the news of the day.
However, the almost constant barrage of "fake news" stories that show up in our Facebook Newsfeeds makes it hard for many users to recognize which stories are true and which are fake.
Luckily, there are things you can do to identify and avoid fake news: 
1 – First and foremost, be skeptical of everything you see on Facebook that is posted as "Breaking News".
We've been living with a 24 hour news cycle for years now, and the news organizations are always on the lookout for fresh news stories. The problem is, in their rush to be first they often post unverified stories that turn out to be false after all the facts have come to light.
Also, if you read something that's based on "anonymous sources", it's best to assume that the news is fake unless and until the "facts" of the story are corroborated by other reliable news sources.
Personally, I never "Like" or "Share" such stories because I don't want to be caught helping spread a rumor that's being passed off as a legitimate story.
Some of these stories might eventually prove to be true, but I won't take a chance on Liking or Sharing them. I recommend that you don't either.
2 – Be on the lookout for "news" websites and blogs that you've never heard of.
If you see a negative (or sad) story about a politician or celebrity on a website with an unfamiliar name or web address, you can safely assume that it's probably 'fake news' click-bait.
One of the most common fake news stories is "[Celebrity name] dies in fiery car crash!", or something similar.
Every time I see one of these I just roll my eyes because they are almost always fake unless the original post came from a nationally recognized news organization.
If there's ever any doubt about the veracity of such a story, plugging the person's name into Google News will quickly let you know whether the story is real or not.
For example, if you see a post claiming that actor Johnny Depp has died (I use Mr. Depp as an example because he's a frequent "victim" in these types of fake posts), make a quick visit to Google News and type Johnny Depp into the search box.
If the story is true you'll see dozens of stories at the top of the search results list confirming the untimely demise.
But if the story is fake news (which fortunately is the norm) all you'll see is a list of recent articles about Mr. Depp's latest movie or things that are happening in his career and personal life.
3 – Don't automatically assume that all stories posted by mainstream news outlets are true.
As you probably know, the mainstream media has recently earned a reputation for playing loose with the truth, and in some cases even manufacturing their own "facts" in order to push a narrative of one type or another.
If you see a story that just doesn't seem right to you, head over to Google News and see if any other major news outlets are reporting the same story. They probably will be if there's any "there" there.
4 – Know the difference between a news organization's "opinion" section and their "hard news" section – and pay close attention to the things you see published in both of them.
Ideally, an outlet's hard news reporters will work independently of their opinion writers, but sadly that isn't always the case.
If you notice that a particular organization's hard news stories almost always align with the political leanings of its opinion writers, those news stories probably aren't going to be as complete, accurate and fair as they should be.
5 – And finally, I strongly recommend that you make an effort to avoid getting all of your news from the same source.
All news organizations have a political bias that's reflected in their opinion pieces, but often that bias will bleed over into their "hard news" stories as well.
Although an organization's political bias can be either liberal or conservative, virtually every news outlet has such a bias to one degree or another.
Facebook always lists the organizations behind the news stories they link to, regardless of their political leanings. I believe it's best to read stories posted by a wide variety of organizations, not just one or two that tend to always lean in the same political direction.
For example, The Washington Post and The Washington Times reside pretty much at opposite ends of the political spectrum, but I read stories posted by both of them in order to get a fairly balanced perspective on the news of the day.
Reading stories by organizations that span the political spectrum will make it easier to recognize fake news when you see it.
If a story is reported much the same way by two or more vastly different news organizations, you can probably safely assume that story is accurate.
On the other hand, if the same story is reported from two completely opposing viewpoints, you can safely assume that at least one of the stories is off base.
And in some situations both stories might be missing the mark. That's when you really need to hit up Google News to see what other news outlets are saying about it.
Bottom line: You'll see links to dozens of news stories on Facebook every day. The tips mentioned above can help you recognize (and avoid) "fake news" stories when you see them.
---