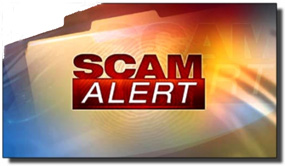 Another day, another scam. This one is perpetrated via an email that claims to be from Google – but it isn't.
The subject line of the scam email varies, but it usually is something like "Lookout Notice" or "Mail Notice". If you happen to accidentally open the email, you'll see text similar to this: 
GOOGLE MAIL NOTICE
This is a reminder that your email account will be locked out in 24hours
Due to not being able to increase your Email storage Quota
Go to the INSTANT INCREASE to increase your Email storage automatically. INSTANT INCREASE
=================================
Sincerely Gmail Team,
Copyright ©2014 Gmail. All rights reserved.
If you receive an email that claims to be from Google with a subject line similar to the ones mentioned above, don't open it. Simply trash it and forget about it.
Whatever you do, DO NOT click on the "Instant Increase" link. That link leads to a fake "Google" login page that is designed to steal the login information for your Google account. If you attempt to log in on that page, you'll give the scammers complete access to your Gmail, Adwords, Adsense, and Google+ accounts as well as any other Google services that you might happen to use!
Note: I hope you'll consider sharing this on Facebook and Twitter in order to help warn as many folks as possible. Thanks.