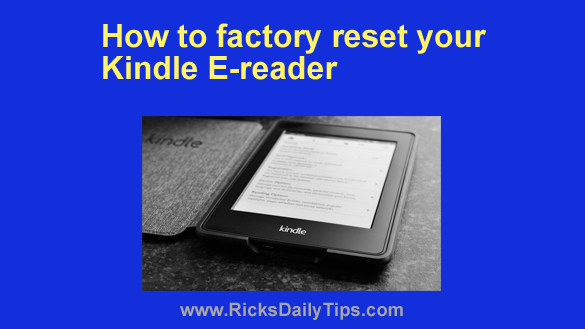 Do you have an Amazon Kindle E-reader that runs slow, freezes up or is just weirdly glitchy in some other way?
If so, there are a couple of things you can do to fix the issue.
The first thing to try is simply restarting the device to clear any glitches that might be temporary in nature.
Luckily, this is very easy to do. Just press and hold the Power button until the "Power Options" dialog box appears, then tap Restart.
Note: It should only take about 10 seconds or so for the "Power Options" dialog to appear. If it fails to appear in that timeframe keep holding the Power button until the screen goes blank and then release it.
After the device reboots check to see if the issue you were having is cleared up.
If a simple restart failed to fix the issue, a factory reset almost certainly will.
As with most any device, resetting a Kindle E-reader back to its factory defaults will clear up virtually any software-related problem.
Just follow these steps to factory reset your Kindle:
1 – On the Home Screen, tap the three dots icon in the top-right corner, then tap Settings.
2 – Tap the three dots icon again and then tap Reset.
3 – Tap Yes to confirm that you really want to reset your Kindle E-reader back to its factory default settings.
That's all there is to it. After the device restarts it will be reset back to the exact state it was in when it left the factory.
At this point you'll need to re-register your Kindle E-reader with your Amazon account and then re-download all your content.
---