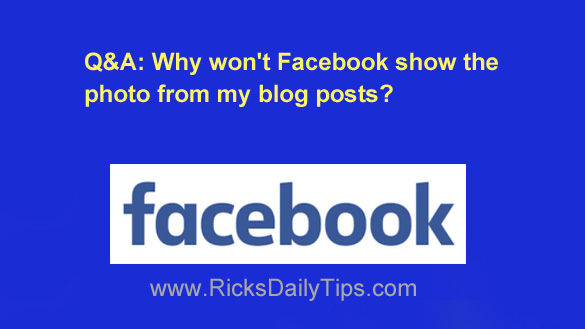 Question from Caroline:  Every time I write a new blog post I paste the link to it in a Facebook status update.
The problem I'm having is sometimes Facebook won't display the photo from the blog post. All it will display is the title and a short snippet of the text.
Is there something I'm doing wrong? Am I missing a step? 
Rick's answer:  I don't think you're doing anything wrong Caroline. This has been a known issue with Facebook for as far back as I can remember.
For whatever reason (and there could be several), Facebook simply refuses to pull in the images from some blog posts when you share a link on your Timeline.
Luckily, it's pretty easy to coax Facebook into pulling an image from your blog posts every time you post a link.
Always take the steps below before you post the link to your blog post on Facebook…
The first thing you need to do is always set a Featured Image for every blog post you write, even if you only use one image per post. The featured image should be the one you want Facebook to display along with your link.
Note: You'll find the link for choosing a featured image over in the right-hand column when you're writing your blog posts.
Next, instruct Facebook to use their handy Facebook Debugger Tool to crawl your blog post and pre-fetch the featured image from the post. Here's how:
1 – Make sure you're logged in to your Facebook account, then click here to launch the Debugger Tool.
Note: I recommend that you bookmark the link to the Debugger Tool in your browser. That way you'll be able to quickly launch it every time you need to use it (which will be every time you're preparing to link to a blog post on Facebook).
2 -Paste the URL to the blog post you want to feature on Facebook into the Debugger Tool, then click the Debug button.
3 – If this is a blog post that has never been shared on Facebook before you'll see a button labeled Fetch new information. Click that button three times. (I say three times because it can sometimes take a couple of tries for the Debugger to pull in all the info from the blog post.)
If this blog post has already been shared on Facebook in the past you'll see a Scrape Again button. Click that button three times (for the reason mentioned above).
That's all there is to using the Facebook Debugger Tool. Facebook should now have all the information it needs to display a complete preview of the blog post, including the featured image.
Now you're ready to past the link to your blog post into a Facebook status update. Go ahead and give it a try!
I hope this helps, Caroline. Good luck!
Update from Caroline:  It worked, Rick! I've posted three of my blog posts on Facebook according to your instructions and the preview included the photo every time. Thank you so much!!!!
---