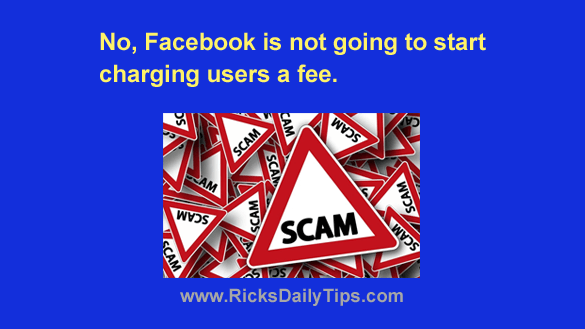 It's back…
Every now and then the old "Facebook is gonna start charging a fee" hoax pops up and starts making the rounds again, and right now is one of those times.
Luckily, this is one of those hoaxes that's more annoying than dangerous, but it is REALLY annoying!
The text of the hoax messages vary, but they typically look something like this:
"ATTN: Tomorrow morning when you connect to Facebook you"ll be invited to payment info…….it's official….it was even on the news. Facebook will begin to charge fees…because of charges of profile. If you copy this on your wall your icon will be blue and Facebook will be free to you….copy and paste to your wall."
This hoax typically spreads as people see it in their newsfeeds and share it on their Timelines, but variations of it are also being spread via instant messages.
Well, truth be told, Facebook is free for casual users, and it's likely to stay free forever. If you see anything that states otherwise, you can safely assume that it's a hoax – because it is!
Yes, you do have the option of paying Facebook to give your posts extra exposure, and many businesses are more than happy to send Mr. Zuckerburg and his crew a few bucks every month to get as many eyeballs on their posts as possible.
But if all you do is use Facebook to share photos, videos and information with your friends and play a game or two, you won't have to worry about paying Facebook a fee.
If you see a post similar to the one above pop up on your screen, I recommend that you click the arrow in the top-right corner of the post and hide it from your newsfeed.
Bonus tip: Click here to learn about some of the other hoaxes and scams you need to watch out for.
---
Never miss a tip!  Click here to sign up for my free Daily Tech Tips Email Newsletter!