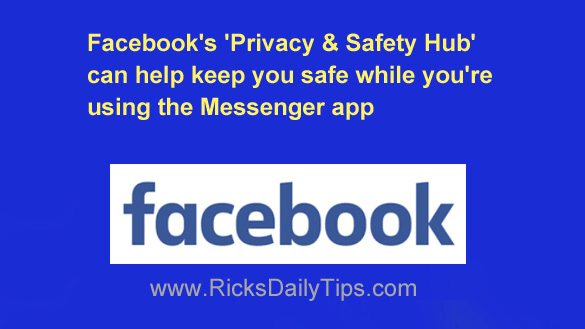 By now you're probably aware that Facebook and other popular social media sites are favorite playgrounds for the hackers and scammers of the world.
Unfortunately, those same miscreants are using Facebook's hugely-popular Messenger app to perpetrate their evil deeds as well.
I've written about several dangerous Messenger-related scams and hoaxes in the past, and I'll continue bringing you the information you need to avoid the new ones that will inevitably pop up in the future.
But today I want to tell you about a valuable resource that Facebook has created that can help you recognize many new scams the first time you see them pop up in your Messenger inbox.
It's called the Privacy & Safety Hub and it has lots of useful information for protecting both your account and your privacy.
This tool's homepage provides a general overview of several of the most common threats you'll face while using the Messenger app along with links for getting more information that can help you avoid them.
I've already covered most of this info in my Facebook security blog posts, Scam Alerts and my new eBook on Facebook security, but the "Privacy & Safety Hub" is a great place to get a quick overview of the things you need to be aware of (and do) in order to stay safe when using the Messenger app.
Bottom line: The scammers and hackers of the world never seem to take a break, and when it comes to Facebook it seems like they're always working overtime.
It's my hope that my own safety tips and warnings are a big help to you, and I certainly thank you for taking the time to read them. However, I believe this (relatively) new tool from Facebook can be helpful as well.
You'll find the home page for Facebook's "Privacy and Safety Hub" right here.
---