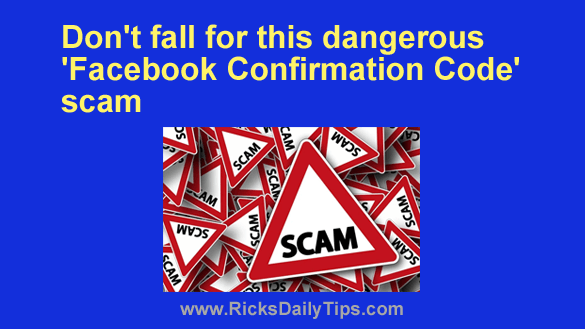 Well, the Facebook scammers are at it again (as if they ever stop).
This time they're out to take control of your Facebook account by tricking you into helping them change the password so they can log in to it.
As usual, there are several variations of this scam, but most of them go something like this: 
You receive a private message from one of your Facebook friends saying they want to change the password on their account but for some reason they aren't receiving the confirmation codes that Facebook sends in order to confirm the account holder's identity.
They ask you to send them YOUR phone number so they can have Facebook send the code to YOUR phone instead.
After you receive the code on your phone they want you to send them the code so they can use it to change their Facebook password.
However, this is all just a ruse…
That message didn't really come from your friend. It was actually sent by a scammer pretending to be your friend, either from your friend's real account which the scammer has already broken into or from a clone account.
If you go along with the scammer's request, this is what will happen:
1 – The scammer will end up with both your phone number and the Facebook confirmation code.
2 – The scammer will use those two pieces of info to change the password on YOUR Facebook account, and thereby gain access to it.
3 – The scammer will log into your Facebook account with the new password and quickly change both the phone number and the email address that's connected to your account, effectively locking you out of it.
As you can see, this is a very dangerous scam. And unfortunately, it's very easy to fall for. After all, we all want to help a friend get out of a jam, right?
Like I said, there are several variations of this scam. For example, some scammers will contact you via email, or if they already know your phone number they might send you a text message.
Just know that regardless of how you receive these messages, they are all scams!
Bottom line: If you receive any type of message from a Facebook friend asking you to send them your phone number and a confirmation code that you'll be receiving from Facebook, refuse to comply or else you'll likely end up losing access to your own Facebook account.
---