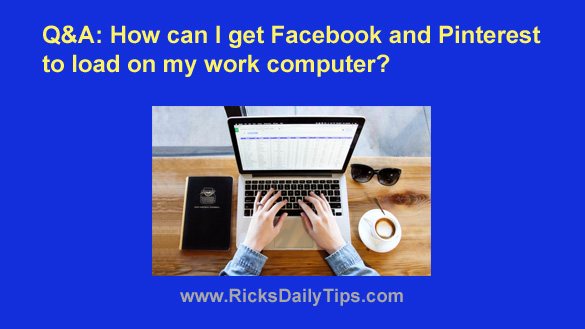 Question from Leigh:  Hi, Rick. I'm hoping you can help me figure out why I can't get Facebook or Pinterest to load while I'm at work.
I use the same laptop at home and everything works fine there.
But when I'm at work I can't get either Facebook or Pinterest to work in any web browser. 
Everything else loads just fine but when I try to load either of those websites I get an error saying the page failed to load and it might be offline.
I know they're online though because I can sneak to the bathroom and load them on my phone.
This started happening over a week ago and it's still doing it now. Can you help me fix it?
Rick's answer:  Leigh, the fact that Facebook and Pinterest load just fine when you're at home means this isn't an issue with your laptop.
It's actually an issue with the Internet connection (or more specifically, the local network your laptop uses to access the Internet while you're at work).
I have a strong suspicion that your company's IT department has made the decision to start blocking social media websites from being accessed via their network. Many companies are doing that nowadays.
You didn't mention Twitter or Instagram but I have a feeling those sites won't load in your browser either.
I recommend that you try loading Twitter and Instagram and see what happens. If they won't load either that'll be a pretty strong indication that your company is indeed now blocking access to social media sites.
I DO NOT recommend asking your company's IT department about this. If you do that would sort of be admitting that you check social media sites while on the job.
Some companies don't mind, but the ones that take measures to block those sites obviously do.
Please don't take this as criticism because I certainly don't mean it that way. I'm just trying to help you protect your job.
I hope this helps, Leigh. Good luck!
Update from Leigh:  You were right, Rick. I couldn't get those sites to load either. And don't worry. I didn't take what you said as criticism. I appreciate you looking out for us!
Bonus tip: This post explains why there's really no such thing as privacy on Facebook (or on the Internet in general).
---