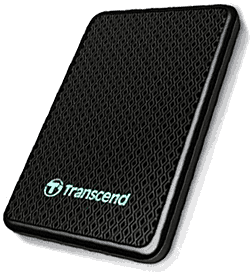 Question from Calvin T.:  I use a Gateway DX4860-UB20P desktop computer at work and I just purchased a brand new Dell Ultrabook to use at home and while I'm out on the road.
I'd like your opinion on the best way to transfer large files between these two PCs.
I'd rather not use a large USB flash drive because I've had a lot of trouble with files getting corrupted on them in the past, and I really need something that's more reliable.
I was planning to buy a 1TB external USB hard drive, but I happened to stop in at Office Depot yesterday and noticed that they now sell external USB Solid State Drives
.
It seems to me like an external SSD would be the perfect solution. Do you agree, or is there some reason why you'd recommend an external hard drive instead?
Rick's answer:  Hi Calvin. In your specific case I'd recommend going with the 500GB USB hard drive instead of a USB external SSD.
While I'm a HUGE fan of solid state drives, the Gateway desktop machine that you use at work has USB 2.0 ports which would create a massive bottleneck for an external SSD. Of course USB 2.0 is a massive bottleneck for modern external hard drives as well, but you can buy a huge USB hard drive for a LOT less than you'd pay for a much smaller USB solid state drive.
On the other hand, your new Ultrabook is equipped with USB 3.0 ports which would make using an external SSD a lot faster than when using it with your work PC, but it still wouldn't really be that much faster than a USB 3.0 hard drive.
Of course you could always add some USB 3.0 ports to your Gateway machine and take advantage of the extra speed on both machines.
Bottom line: I recommend saving the extra money you'd have to lay out for an external SSD when its speed advantage over an external hard drive would be pretty much negated by the USB connection.
If I were you I'd just spend a few bucks for a USB 3.0 external hard drive
(#ad) instead. I truly think it'll serve you just as well as an external SSD while providing a lot more storage space at a fraction of the price.
---
Do you have a tech question of your own for Rick? Click here and send it in!