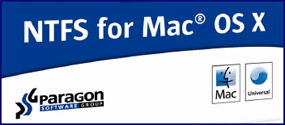 Question from Chad:  I'm in desperate need of a USB external hard drive that I can plug in to my Mac when I'm at home and then take it to work with me to plug into the Windows 7 PC I use there. The larger the better, but 2TB or larger will suffice.
I'll be using this drive to transfer large video files that are several gigabytes each. Can you tell me where I can find a drive that meets this requirement? I've checked all over the web with no luck. Thanks!
Rick's answer:  Chad, any hard drive formatted as FAT32 will work fine on both machines (and on most Linux boxes as well), but FAT32 is old technology that comes with a number of serious limitations – including a 4GB file size limit. My advice would be to buy a good USB hard drive in the size you want that's formatted as NTFS since your work PC is running Windows 7, then buy a great $20 NTFS driver for your Mac called, of all things, NTFS for Mac!
Simply install NTFS for Mac on the Mac you use at home, then the drive will work without a hitch on either computer. Simply plug it in and go. I realize that you probably would rather avoid having to shell out $20 extra for a piece of software, but in this case I believe the extra expense will be money well spent.
---
Do you have a tech question of your own for Rick? Click here and send it in!