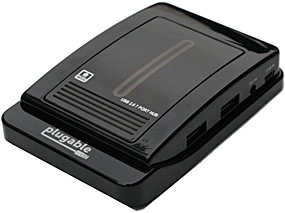 Question from Erica P.:  Hi Rick! I have a question that I hope you can answer for me.
I have an older Seagate 200 GB external hard drive that has lots of wonderful family photos that I've scanned over the years stored on it.
The drive works fine when I plug it directly into a USB port, but it won't work at all when I plug it into my 4-port USB hub. I really need to use the hub because my PC is under my desk and the USB ports are a pain to get to.
Do you think I need to buy a new hub? I don't think the one I have is bad because I have my printer and webcam plugged into it, and they both work just fine. Thanks for any advice you can give me!
Rick's answer:  Erica, I do think you need a new USB hub, but not because the one you are using is "bad". My guess is you have an unpowered hub and your computer's USB ports simply cannot supply enough power to the drive to make it work correctly.
It's easy to determine whether your current hub is powered or not. If it has an AC adapter connecting it to a wall outlet, it's a powered hub (also known as an active hub). This means it can provide power to the connected devices on its own, independent from the computer.
If the hub doesn't have an AC adapter, it's a passive hub that simply passes whatever power is available from the computer's USB port on to any connected devices. I'm virtually certain that your hub is a passive hub. If so, you can either pick up a powered USB hub at your local electronics retailer or choose one from Amazon
.
By the way, if you buy a new hub you'll still be able to use your old one at the same time. It'll work just fine for your printer and webcam and the new USB 3.0 hub will work perfectly with your external hard drives.
Bonus tip: Did you know you can add super-fast USB ports to your computer? Well, you can, and this post explains how.
Note: The links in this post are affiliate links.
---
Do you have a tech question of your own for Rick? Click here and send it in!
If you think your friends would like this post, I'd love you to share it! Thanks a bunch!