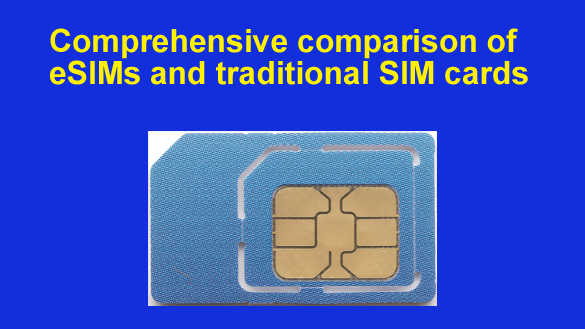 As technology continues to evolve, the realm of mobile connectivity is experiencing a revolutionary shift with the advent of digital SIMs, or eSIMs. The question arises: Is a digital SIM better than a physical SIM card?
In this article, we delve into the intricacies of eSIMs and traditional SIM cards, highlighting their differences, advantages, and drawbacks. 
Additionally, we explore the role of virtual numbers in this digital landscape, unveiling the potential of these cutting-edge communication solutions. Read on to understand how these advancements are reshaping the way we connect and communicate.


What is an eSIM card
eSIMs, short for embedded Subscriber Identity Modules, are built-in digital chips within a mobile device that enable cellular connectivity without the need for a physical SIM card.
Unlike traditional SIM cards, which are removable and interchangeable between devices, eSIMs are permanently integrated into the device during manufacturing. The eSIM technology is standardized by the GSMA, making it compatible with a wide range of devices and carriers globally.


Advantages of eSIMs
Virtual Number Options – While eSIMs and virtual numbers are distinct concepts, they complement each other to revolutionize communication. Virtual numbers are cloud-based telephone numbers that can be assigned to existing devices, allowing users to make and receive calls and texts over the internet. They offer the unique advantage of establishing a local presence in various regions without the need for physical infrastructure.
Owners can use virtual numbers in 168 countries to connect with customers across the globe, fostering trust and accessibility. Integrating virtual numbers with eSIM enhances communication options for both individuals and businesses, simplifying global connectivity.
Flexibility of use – One of the primary advantages of eSIMs is their flexibility. With eSIM technology, users can remotely switch carriers and activate various mobile plans without the hassle of physically inserting a new SIM card. This capability proves invaluable for frequent travelers, as they can easily access and use local data plans in different countries without having to purchase a new SIM card each time.
Multi-Carrier Support – eSIMs empower users with the convenience of hosting multiple mobile plans simultaneously on a single device. This feature is particularly advantageous for individuals who require separate personal and business lines or those who want to take advantage of the most cost-effective data plans for specific regions. The ability to switch between carriers instantly opens up a realm of possibilities for optimizing communication costs.
Enhanced Security  – Security is a top concern in the digital age, and eSIMs address this concern with advanced security features. eSIM technology supports secure authentication and encryption of data, providing a more robust shield against potential hacks or unauthorized access. This heightened level of security is a significant advantage over traditional SIM cards, which may be vulnerable to physical tampering or SIM card cloning.
Despite the array of benefits offered by eSIMs and virtual numbers, traditional SIM cards continue to be the backbone of mobile connectivity for many users. Traditional SIM cards provide a sense of familiarity and reliability, especially for those who have been using them for years. For some users, the tangible presence of a physical SIM card offers a sense of control over their connectivity.


Differences between Physical SIM cards and eSIM cards
Physical Swapping vs. Remote Activation – A noteworthy difference between eSIMs and traditional SIM cards lies in the activation process. Traditional SIM cards require physical swapping, which can be inconvenient, especially for those constantly switching between different devices. eSIMs, on the other hand, allow for remote activation, empowering users to activate their plans directly from their devices, providing a smoother and more efficient experience.
Network Coverage and Device Compatibility – While eSIMs are gaining traction worldwide, the technology is not yet universally supported by all carriers and devices. Users in certain regions may face limited options for carriers that offer eSIM support. Additionally, some older devices may not be eSIM-compatible, restricting the technology's accessibility to a broader audience. Traditional SIM cards, in contrast, enjoy near-universal compatibility with all devices and carriers.
Conclusion
The debate over whether eSIMs are superior to traditional SIM cards remains subjective, as each technology offers distinct advantages and caters to different user preferences. eSIMs grant flexibility, multi-carrier support, and enhanced security, making them an appealing choice for those seeking seamless connectivity and dynamic communication. When combined with virtual numbers, the possibilities for global communication become limitless, empowering businesses to reach audiences worldwide.
However, traditional SIM cards continue to hold their ground, providing a sense of reliability and familiarity for many users. The physical presence of a SIM card and widespread compatibility ensure that traditional SIMs remain a dependable option for mobile connectivity.
Both eSIMs and traditional SIM cards have their merits, and the choice between the two depends on individual needs and preferences. As technology continues to advance, eSIMs and virtual numbers are expected to play a more significant role in shaping the future of mobile connectivity, bridging communication gaps and transforming the way we connect with the world.
---