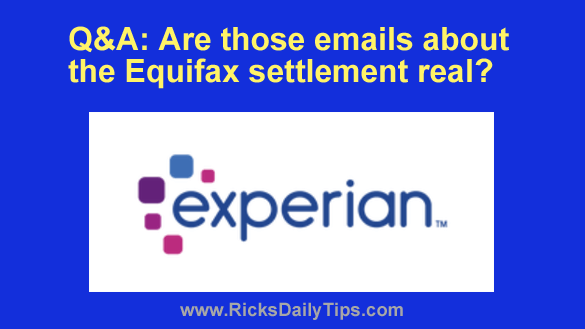 Question from Roger:  I've heard that people are getting emails about an Equifax settlement in relation to the time they were hacked.
I'm confused because I thought that happened a long time ago. I'm thinking it might be a fraud.
Just wondering if those emails are real and if I should open it if I get one? 
Rick's answer:  Roger, the vast majority of emails of this nature are indeed fraudulent, but in this case they are actually real.
As you mentioned, the massive Equifax breach you're referring to took place way back in September 2017, but the final settlement agreement was just finalized last month (January 2022).
As you know, the wheels of government usually turn pretty slow.
Anyway, if you're interested in the details of the settlement, the Federal Trade Commission (FTC) explains it all right here.
Now, a word of warning…
Although the emails that most folks are receiving are legitimate, scammers have already begun exploiting the situation by sending out fake emails mimicking the real ones that Equifax is sending out.
To make sure you don't fall for one of the scams, I recommend that you do the following:
1 – Carefully check the sender's email address to make sure the email was sent from this address:
If the sender's email address is off by even one letter you'll know it was sent from a scammer.
2 – If you determine that the email is legitimate, make a note of the Activation Code contained in the email. You'll need that code in order to sign up for the free credit monitoring service that Equifax has agreed to foot the bill for.
3 – Don't click the link in that email just in case you mistakenly believe it's real but it really isn't. Instead, visit this web page directly:
https://www.experianidworks.com/equifaxsettlement
4 – Read all the information on that page so you'll know which complimentary services you'll receive after you sign up.
5 – If you decide to take advantage of the free credit monitoring services click the Get Started button.
6 – Enter the Activation Code you received in the email along with the rest of the requested info.
That's all there is to signing up for the free credit monitoring service that Equifax has agreed to provide as part of the settlement.
Bottom line: If the email was sent from the EXACT email address listed in Step 1 above then the email is legitimate. However, I still recommend visiting the page linked to in Step 3 directly just to be safe.
If you still have concerns after reading this, the FTC article I referenced above should help.
---