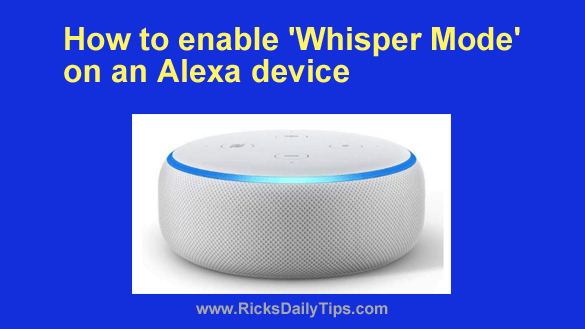 Note: The links in this post are affiliate links.
Do you ever have any conversations with your Alexa device that you'd prefer that other family members or house guests not be able to hear?
Or do you occasionally prompt Alexa to answer a query late at night only to have her wake up everyone in the house with her reply?
Well, as luck would have it, your Alexa device has a nifty "Whisper Mode" that can prevent others from hearing (and/or being disturbed by) the conversations you have with the device. 
Just follow these steps to enable Whisper Mode on your Alexa device:
1 – Open the Alexa app on your Android or iOS mobile device.
2 – Tap the Menu button in the top-left corner of the app (it looks like three horizontal lines stacked atop one another).
3 – Tap Settings, then tap Alexa Account.
4 – Tap Voice Responses.
5 – Toggle the "Whispered Responses" setting to On (the slider should turn blue).
That's all there is to it. From now on when you whisper a query or command to your Alexa device it will respond by whispering back. However, if you speak in a normal voice Alexa will respond the same way.
I hope this helps. Happy whispering!
Bonus tip: This post lists 10 reasons why I recommend buying tech gear from Amazon.
---