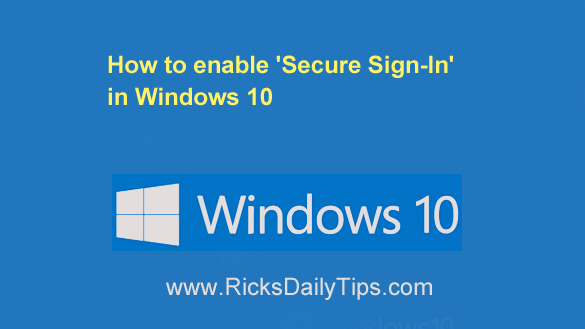 I've received several emails within the last few weeks asking me how to enable Secure Sign-In in Windows 10, so I thought I'd write those instructions up as a tip.
If you're unfamiliar with how it works, the Secure Sign-In feature forces the user to press the Ctrl+Alt+Delete key combination before they are allowed to sign in to Windows.
This forces users to sign in using Windows' own native login screen instead of one of the countless fake login screens that start showing up on computers after they become infected with certain types of malware.
The Ctrl+Alt+Delete key combination is strictly reserved for Windows's use. That prevents it from being re-mapped by a malware program to cause it to complete any task other than the one Windows has permanently assigned to it.
That means after you've enabled Secure Sign-In on your machine you'll be able to press that special key combination to access the Windows login screen, knowing without a doubt that it's the real Windows login screen and not a fake one that was created by a hacker with the intentions of stealing your login credentials.
If you'd like to enable Secure Sign-In on your Windows 10 machine, just follow the steps listed below:
1 – Press the Windows+R key combination to display a "Run" box.
2 – Type netplwiz into the Run box, then press the Enter key to launch the "User Accounts" utility.
3 – Select the Advanced tab.
4 – Check the box beside Require users to press Ctr+Alt+Delete.
5 – Click Apply, then click OK.
That's all there is to it. From now on the "Lock Screen" will display a message telling you to press Ctrl+Alt+Delete in order to unlock the PC and sign into Windows.
Bonus tip: New to Windows 10? Want to learn more about it's many features and tools and how to more effectively use them?
If your answer to either of those questions is yes I recommend that you check out Windows 10 for Dummies, an easy to understand guide to Microsoft's latest version of Windows.
---
Never miss a tip!  Click here to sign up for my free Daily Tech Tips Email Newsletter!