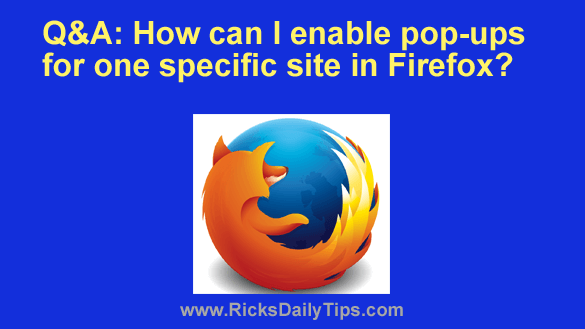 Question from Jamie:  For the most part I like how Firefox blocks pop-ups but there's one site that I really love that opens every link you click in a pop-up window.
Is there any way to allow pop-ups on this one site but keep the pop-up blocker enabled on other sites? 
Rick's answer:  I know exactly what you mean, Jamie. One of my favorite sites does the same thing.
Luckily, it's quite easy to "whitelist" a website to prevent Firefox from blocking its pop-ups while still blocking pop-ups on other sites. Just follow the steps below:
1 – Open Firefox and visit the home page of the site you want to allow pop-ups on.
2 – Select the URL that's displayed in the address bar (it should become highlighted in blue).
3 – Right-click on the highlighted URL and then click Copy.
4 – Click the Menu icon in the top-right corner of the window (it looks like three horizontal lines stacked atop one another).
5 – Click Settings.
6 – In the left-hand pane, click Privacy & Security.
7 – Scroll down to the "Permissions" section and find the "Block pop-up windows" line. Click Exceptions… over on the right.
8 – Right-click inside the "Address of website" box and click Paste.
9 – Click Allow, then click Save Changes.
That's all there is to it. Firefox should no longer block any pop-ups on that website while continuing to block them on all other sites.
Update from Jamie:  Perfect! Thank you, Rick.
---