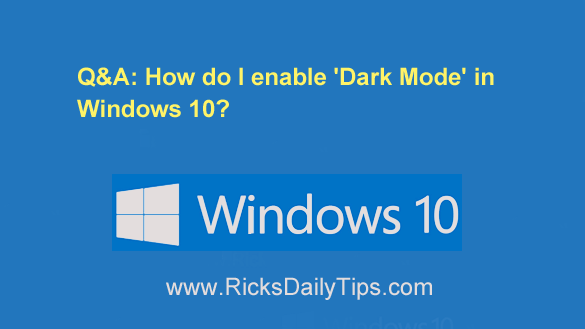 Question from Karlie:  I use my laptop late at night while hubby is trying to sleep, but sometimes the light from the screen keeps him awake.
A friend at work told me I could enable 'Dark Mode' on the laptop and it wouldn't put out near as much light.
I'd love to give that a try. Can you tell me how to turn on Dark Mode on a laptop with Windows 10?
Rick's answer:  Your friend is right, Karlie. Using your laptop with Dark Mode enabled really will reduce the amount of light that's emitted by the screen.
Luckily, Microsoft has made it quite easy to enable Dark Mode in Windows 10. Just follow the steps below:
1 – Click the Start button.
2 – Click the Settings icon (it looks like a "gear" or "cog").
3 – Click Personalization.
4 – Click Colors.
5 – Click inside the box labeled "Choose your color" and select Dark from the list of options.
That's all there is to it. Your laptop should now have a much darker screen that emits a lot less light into the room.
By the way, Windows computers aren't the only devices that support a Dark Mode.
You can also enable it on a Mac, a smartphone, a tablet or most any other modern electronic gadget that has a screen. Just go into the device's Settings and look for the 'Dark Mode' setting.
Note: The actual name used for the 'Dark Mode' setting can vary a bit from device to device, but it's usually very easy to identify the setting you're looking for.
I hope this helps, Karlie. Good luck!
Update from Karlie:  Thanks, Rick. That does help – a lot.
---