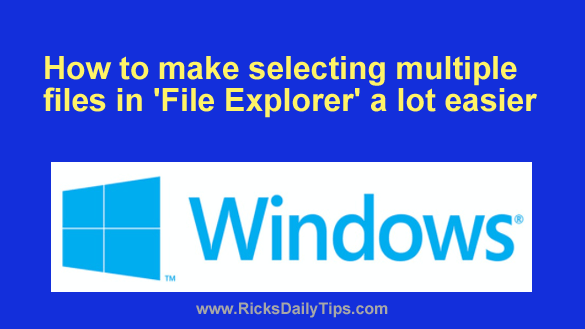 Selecting multiple files in File Explorer can be one of the most aggravating tasks one can perform in Microsoft Windows.
You hold down the Ctrl key and start clicking on filenames, only to find yourself accidentally creating a ton of duplicate files because of an errant click and drag sequence.
And the task is even more difficult if your hands are shaky or you have difficulty controlling the mouse pointer. 
But guess what? If you use Windows 10 or Windows 11, there's an easy way to select multiple files without making those insidious accidental copies or getting all the way to the bottom of the list of files only to "lose" your selections by making an errant click…
All you have to do is enable Check Boxes. It's really easy. Just follow the instructions below for your version of Windows.
Windows 11…
1 – Press the Windows+E key combination to open File Explorer.
2 – Click the three dots at the far-right end of the top menu bar, then select Options from the drop-down menu.
You should now see the "Folder Options" dialog box.
3 – Select the View tab, then scroll down the list of optional settings and check the box beside Use check boxes to select items.
Windows 10…
1 – Press the Windows+E key combination to open File Explorer.
2 – Select the View tab.
3 – Check the box beside Item check boxes.
That's all there is to it. Check boxes should now be enabled for use with File Explorer.
From now on you can hover your mouse over a file that you wish to select to display a small check box. Check the box and that file will remain selected while you make your other selections.
Once you have finished checking the boxes beside the files you wish to perform the action on, you can do your Copy, Cut or desired other task on the selected files.
---