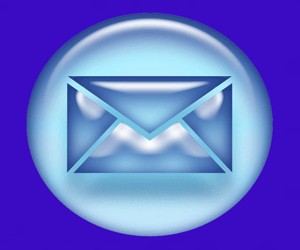 Have you ever had to email a bunch of photos or other files to someone else?
If so, you probably had to send all of those files as attachments in a series of several different emails.
Luckily, there's an easy way to email lots of files as one single attachment.
All you have to do is place all of the files you wish to send into a compressed 'zipped' folder. Here's how to create a zipped (compressed) folder: 
1 – Right-click on the Windows Desktop, then click New>Folder.
2 – Give the new folder a descriptive name. For example, if you want to email a bunch of wedding photos you could name the folder JohnsWeddingPics or something similar.
3- Copy all of the files you want to send in an email into your new folder.
4 – After you have placed the last file into the folder, right-click on the folder and select Send to>Compressed (zipped) folder.
Note: If you have a Mac right-click on the folder and then click Compress [name].
That's all there is to it. Now you can attach the zipped folder you just created to a new email message and send all the files to the intended recipient in one fell whoop.
Just be aware that most email services have a limit on the maximum file size of attached files. If you receive a message saying your file is too large you'll need to remove enough files from the folder to get it under that limit after the folder is zipped.
For example, if you use Gmail any zipped folder you attach to an outgoing email cannot exceed 25MB in size.
Also be aware that the recipient of your zipped folder might end up needing assistance with extracting the files from it. Therefore, you might want to copy and paste the following instructions into the body of your email:
To extract the files from the attached folder:
1 – Save the zipped folder to your computer.
2 – Right-click on the zipped folder and click Extract All.
3 – When prompted, select a destination for the new folder containing the extracted files, then click Extract. (Note: Simply click Extract to place the new folder in the same location as the zipped folder.)
That's all there is to it. Now you know how to send multiple files in a single email attachment!
Bonus tip #1: Read this post to find out why you should NEVER click the 'Unsubscribe' link in SPAM emails.
Bonus tip #2: Want to make sure you never miss one of my tips? Click here to join my Rick's Tech Tips Facebook Group!
---
Want to ask Rick a tech question? Click here and send it in!
If you found this post useful, would you mind helping me out by sharing it? Just click one of the handy social media sharing buttons below.