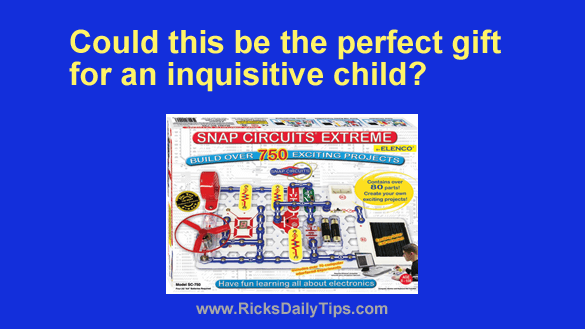 Do you have an inquisitive child who is always wondering how something works? If so, I'm about to recommend what could possibly be the best gift ever!
The Snap Circuits Extreme SC-750 Electronics Discovery Kit will open up the world of electronics to your youngster.
The package includes over 750 intriguing electronic experiments that your child will assemble using 80 electronic parts, as well as manuals and instructions for every experiment. 
This award-winning kit was designed with safety in mind. There is no soldering involved, and there are no dangerous high voltages to worry about.
All of the included experiments can be used over and over. Simply disassemble the parts after each experiment has been completed and the kit will be ready for your child to start on the next one.
I have always had a keen interest in electronics myself, and I remember how as a youngster I would take apart old radios, TVs and other electronic items in order to learn how they work. Looking back on it, I would have loved to have had one of these awesome kits!
The projects in this kit include a sound activated switch, a lie detector, an adjustable light controller, an AM radio, a rechargeable battery, and many more. There's sure to be numerous experiments that will interest your child and keep him/her busy for hours doing something that will actually help them prepare for the real world.
Here's a short video that demonstrates the kit in action:
Note: You can watch the video at full screen by clicking the little "square" icon in the lower-right corner of the video after it begins playing.
The age range recommended by Elenco is 8-15 years of age, making it a very flexible learning tool that can be handed down from child to child as they mature.
Bottom line:  This kit offers the perfect opportunity for your child to learn the basics of electronics in a fun, intriguing and safe environment.
Click here to learn more about the Snap Circuits Extreme SC-750 Electronics Discovery Kit at Amazon, including about 1,300 overwhelmingly positive user reviews.
---