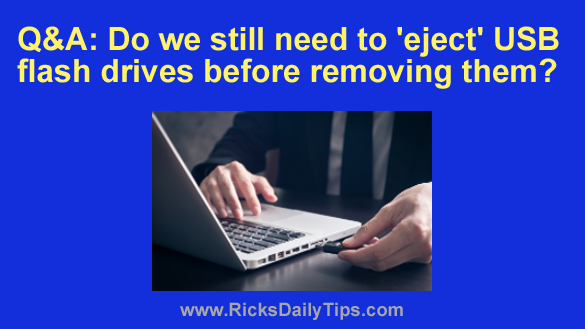 Question from Keith:  I always 'eject' my USB flash drives before removing them from the computer because I heard that not doing that could cause the drive to get corrupted.
Someone saw me eject a drive the other day and said we don't have to do that anymore.
My question is, can we now just pull the drive out of its socket or do we still need to eject it first? 
Rick's answer:  Keith, you didn't mention whether your computer is a Windows machine, a Linux box or a Mac. Unfortunately, that bit of info is needed in order to accurately answer your question. Therefore I'll provide an answer for all three types of machines.
First, let's talk about Windows PCs…
Prior to the Fall 2018 update of Windows 10, the default setting for USB flash drive removal was "Better Performance", which basically enabled something called write caching.
That meant data that was going to be written to a drive was cached and then actually written to the drive later. If you didn't eject a thumb drive before removing it any data in the cache that was waiting to be written to the drive would never make it onto the drive.
As you can imagine, that failure to eject would result in the loss of any data that was waiting to be written to the drive. And even worse, it could (and often did) cause the file system on the drive to become corrupted.
However, Microsoft changed the default setting from "Better Performance" to "Quick Removal" (i.e. disabled write caching for USB flash drives) with the release of the Fall 2018 Windows 10 update.
And that has been the default in every new release of Windows since (including Windows 11).
That means if you are using either an up-to-date version of Windows 10 or Windows 11 you no longer need to eject your USB drives before disconnecting them.
I'll admit that I still eject mine, but that's from force of habit, not because there's an actual need to do it.
For anyone who might be curious, the most common method of ejecting a flash drive in Windows is by right-clicking on the drive in "File Explorer" and then clicking Eject.
And now, let's talk about Linux PCs and Macs…
Both Linux machines and Macs have write caching enabled by default. As a result, you could well end up with data loss and (possibly) a corrupted drive if you remove the drive without ejecting it first.
That being said, you can easily disable write caching on those machines if you want to. Just follow the steps listed on this page for the type of computer you're using.
Bottom line…
If you're using a PC that's running either an updated version of Windows 10 or any version of Windows 11 you can safely remove a USB flash drive from the machine at any time without ejecting it first.
However, if you're using either a Linux PC or a Mac you still need to eject the drive before unplugging it.
---