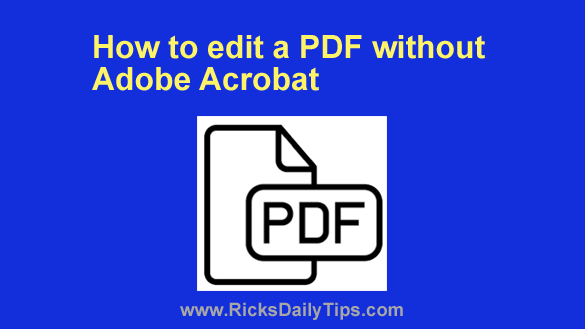 Adobe Acrobat is a paid PDF editor that's extremely popular. But, at a cost of a $156 yearly subscription, it's perhaps not worth the investment if you're on a budget or just don't need a PDF editor in your daily life.
Fortunately, there are many other ways to edit a PDF document without Adobe Acrobat. The sensible choice for many is online PDF editors that are freemium and offer plenty of PDF modification tools, accessible across different platforms and devices.
Additionally, there are free PDF editors that you can download to your PC or smartphone, plus some relatively cheap alternatives to Adobe Acrobat that work just as well as the popular, more costly choice.
Let's take a look at these options to modify your PDFs other than Adobe… 
Online PDF editors to the rescue
Editing PDF files doesn't require you to download applications that take up space on your hard disk and need to be regularly updated. After all, if you only occasionally work with PDFs, then you're better off saving your hard-earned dollars than splashing out on software that you'll rarely use.
Instead, there are online PDF editors such as FormatPDF's one. Not only do these online tools work from the cloud, meaning they don't take up precious memory on your computer or mobile, but they also work on any device with an internet browser. So, not only can you alter your PDF documents for free, but you also get ready-to-use PDF editing tools available at any time or place.
On these kinds of sites, the process of editing PDFs is rather straightforward:
1 – Once you've opened the webpage in your web browser, the next step is to select the editing tool you want to use. You can choose the right tool from the list of icons on the home page or from the main menu.
2 – With the tool selected, you'll be directed to an upload page where you have the option to drag and drop your PDF there, or select the file to be edited by browsing your device's file system.
3 – The selected document will then open in an editor window, with a page preview pane on the left side. The page preview pane makes it easy to select the page to edit in a multi-page PDF document. You can click on the page you want to edit from this left-hand pane and then it will show up in the editor.
4 – These editors have plenty of tools, some of which also offer customization options. For example, a text tool allows you to add text and gives you options such as text color, size, and formatting. This is one of the most useful tools for PDF editing.
5 – When you click the text tool, it will show a text box on the selected page. You can drag this box to the area on your PDF where you want to add the text and start typing.
6 – When you've completed editing your PDF file, all you need to do is click on the 'Download' button and the modified document will save itself to your device, ready for you to use or send. And that's how easy it is to use an online PDF editor as an Adobe Acrobat alternative!
How to Edit PDFs by Converting Them to Word Docs
If you don't have an internet connection, then you may be pleased to hear that there are ways to edit PDFs using your Windows computer's in-built software.
Microsoft's native word processing app, Word, can be effectively used to edit PDF files on your desktop PC or laptop. And since Word comes built-in on most machines running the Windows operating system, almost anyone can use it. Here's how:
1 – Simply open your file in Word and Word will convert the PDF to .doc or .docx format, to make it editable.
2 – Make the changes you want.
3 – Once you're ready, go to 'File' > 'Save As' and select 'PDF'. This will save your modified document as a PDF again!
The one drawback to be aware of while using Word to edit PDFs is that there's a chance that, when you open PDFs in Word, the document's original formatting may be changed.
This is often the case with large, complex PDF files with elements other than text, such as images and videos. in most cases, though, following this method to alter a PDF works well.
Edit PDFs Using the Preview App on an Apple Mac
If you're an Apple user rather than Microsoft, then fortunately, Apple's Mac systems also allow you to edit PDF files using in-built apps. As such, you won't have to download any extra applications just to add new text or some icons to your PDF files, and you can do so even when you don't have an internet connection.
By default, when you click on a PDF file in your Mac system, it should open in the Preview app. Notably, however, some versions of macOS might feature another app similar to Preview called Quick Looks. Both work in a similar fashion, so the steps below should help you to edit your PDFs on your Mac system without using Adobe software:
1 – Once you've opened the PDF in Preview or Quick Looks, you can find the editing tools you need in the Markup Toolbar, which would also appear on your Touch Bar if your device supports it. In case the toolbar's not visible, click on the 'Show Markup Toolbar' button and that should do the trick.
2 – You can choose from a variety of tools such as text, draw, and even add your signature. This makes Preview and Quick Looks good, easy alternatives if you don't have Adobe Acrobat on your system.
3 – Usefully, you can save the edited PDF file in an editable format in case you want to revise the changes you've made later on. Alternatively, flatten the additions made to the PDF file by clicking 'File', then 'Print', and finally 'Save as PDF'.
Summary
So to conclude, there's no reason to download and install expensive, subscription-only software like Adobe Acrobat if you only occasionally make changes to PDFs.
As we've discussed, there are plenty of free, effective alternatives, ranging from online PDF editors to the software already included on your device. Give these alternatives a try and you'll see how easy to use they are.


---