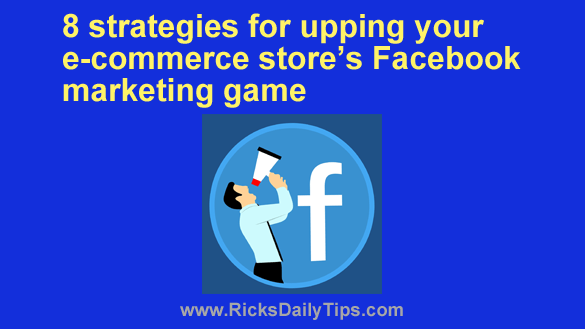 Facebook offers budding and established businesses alike a top-notch platform to market their goods and services. Its robust algorithm can increase brand reach and awareness and effectively turn interested leads into paying customers.
Facebook marketing comes at a cost, but it is a small price to pay for an increase in revenue in a competitive market, wouldn't you agree?
If you're thinking of utilizing pay-for-play Facebook to drive more sales, consider using these marketing tips to maximize your internet-based commercial success: 

1 – Create a business page
While Facebook will link to your store even if you don't have a business page, creating one with a personalized Facebook cover photo, profile picture, images, brand logo, appropriate username, location, and a short description of what you're offering will provide much-needed authenticity.
Creating a specialized business page will also make it easier for potential customers to understand what you're offering. And they can contact you in just one click, should they desire to avail of your products or services.

2 – Get Facebook Pixel
Facebook Pixel is a code snippet you place on your website. While it does play a part in reaching new customers, it mainly helps businesses remarket their products to people who've already visited their website.
You can utilize Pixel even if you haven't yet launched your Facebook ad strategy. It can be used as a standalone code to understand customer behavior, track conversions, and target customer audiences for future ads.

3 – Create Visually Appealing Posts
High-quality images and videos on their own can sell a product. Make sure to follow these guidelines while shooting for an ad campaign or posting photos and videos on your feed:
Users quickly scroll through their feeds. To grab their attention, post bright, vibrant, aesthetically appealing, and eye-catching pictures.
Add phrases, words, and relevant text to the picture as a hook to attract customers. You can only use 20% of the image area, so be wise with your word choice. It's best to use a compelling call to action to spur a purchase.
Use images of attractive, happy people to establish an emotional connection. Stock images won't sweeten the deal, so steer clear of using them.
Include videos in your marketing strategy. Videos on Facebook have a 135% higher engagement rate than photos. So, hire a professional videographer or spend some time honing your skills to shoot the perfect 4 to 4.5-minute video to trigger the sales funnel.

4 – Retarget Ads
The average shopping cart abandonment rate is around 70% of your site visitors. These people liked your product enough to add it to their cart. The question is: what stopped them from making the final purchasing decision? Focus your attention on determining the root cause.
As a corporation, you may not be able to allocate time and resources towards an intensive research process. And most of the time, the situation doesn't even warrant it. A targeted ad that offers a discount or reminds people that they have items in their cart may act as the nudge they need to make the desired purchase.
Retargeting ads offer an average click-through rate 10x higher than the standard ad, which reiterates just how big you stand to lose in conversions and sales by not retargeting your site visitors.

5 – Host a Contest
Everybody loves free stuff. It's time to leverage this with contests and giveaways to drive sales. In addition to well-defined guidelines for entry, use aesthetically appealing pictures, and keep participation simple to maximize overall appeal and outreach.
This marketing strategy works well for both brick-and-mortar shops and e-commerce businesses. As long as you comply with the Facebook rules for hosting contests and giveaways, you'll be good to go.

6 – Content is King
Good content rules. You could sing praises of your product or service all you want, but if it doesn't target a pain point or offers users a guide to solving the said issue, your posts, however well-timed they are, will not do anyone any good.
A piece of advice? Mix it up.
In addition to posts about your product, share how-to guides and funny, relatable content. HudaBeauty, for example, has a blog dedicated to sharing information that her customer base will find intriguing, appealing, and helpful. And a lot of it is not even related to the products she offers! That's how you reel in potential customers: by showing them you care.
Practice consistency, variety, have a varied content posting schedule in place, and hook people in with the power of stories. You'd be surprised with how big a difference that can make.

7 – Maximize the Power of Ads
Don't want to spam your targeted audience with ads? Opt for multi-product ads to give your customers more options to choose from. This will increase your conversion rate while cutting down costs. For example, Adobe's customers witnessed a 50% to 300% increase in click-through rate by adopting this approach.
You can also use ads to offer more detailed descriptions of your products to influence your customer's purchasing decisions.

8 – Announce New Products
Are you releasing a new product? Announce it on your e-commerce page well in advance to build hype. You can send beautifully-packaged releases to high-rated influencers and have them share sneak previews or early reviews. You can then re-share these posts on your business account to garner attention and appeal.

Wrapping it all up
These suggested Facebook strategies, when used right, will help you build an empire from the ground up. If you're still new to the marketing biz, we suggest taking it one strategy at a time to see what works best for you.
To cut costs that accompany personalization, consider using the extensive range of Facebook Graphics offered by PosterMyWall. The marketing tool is free and has a host of other features you can use to level up your branding game.
---