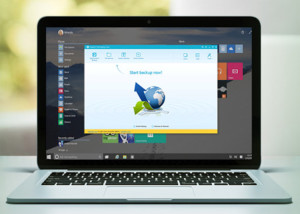 These days our computers are loaded down with programs, apps, photos, videos and other files that we simply could never replace if something were to happen to our hard drive.
That's why it's so important to always have a current backup of your system at the ready.
All recent versions of Windows have decent backup capabilities built-in, and I have written several posts explaining how to use them. That being said, there are times when it helps to have something a lot more powerful and easier to use than Windows' integrated backup tools. 
I recently had the opportunity to check out a free, but extremely powerful backup utility called EaseUS Todo Backup Free, and I found it quite impressive in its features, capabilities and ease of use.
As one would expect, Todo Backup Free will create a full backup of your hard drive. And by full backup, I do mean FULL.
First of all, it backs up your current Windows installation along with all the installed Windows Updates and hardware drivers. That makes it easy to get your system back up and running in a hurry without having to spend hours downloading and re-installing hundreds of Windows Updates and device drivers.
But that isn't all it does. Every backup set also includes your installed programs and apps plus all of your user-created files such as Office documents, photos, videos, etc. If it's on your hard drive or SSD, Todo Backup Free will back it up for safekeeping!
On top of all that, it can also do all of this:
Quickly create incremental backups after the initial full backup has been completed.
Backup to both a local drive AND to the cloud for backup redundancy.
Clone the contents of your boot drive to a new hard drive or and move Windows to an SSD.
Restore an entire drive or choose to restore individual partitions, files and/or folders.
Will do a great job as backup software for Windows 10.
As you can see, this is one powerful program. And after putting it through its paces I can tell you that it's just as easy to use as it is powerful.
Bottom line: While it's true that Windows' built-in backup tools will get the job done, I strongly recommend that you give EaseUS Todo Backup Free a try. It does so much more than just back up your system – and it's free!
Click here to read more about EasUS Todo Backup and download the software for free.
If you like this post you can get my latest tips in my weekly RicksDailyTips Email Newsletter. Sign up for free at the bottom of this page!