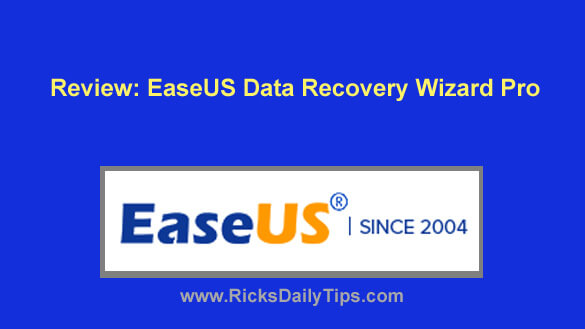 This is now a digital world, and chances are you use multiple devices to communicate with friends and family, watch videos, play games, share photos and any of 100 other digital activities.
Have you ever stopped to think about what would happen if you lost all the precious photos and other files you've accumulated on your computer or mobile devices over the years?
Unfortunately, bad things happen, and it pays to be prepared when disaster strikes. After all, hard drives crash and files get accidentally deleted. And yes, it will happen to you if it hasn't already.
That's why I'm constantly stressing the need to back up your data on a regular basis.
But the thing is, backups alone aren't enough. Why? Because backups themselves can get lost or corrupted! What would you do then? 
Well, that's where data recovery comes in.
I've tested and used several good data recovery programs over the years, and I always keep a couple of my favorites stashed away for the times when I need them. But now my favorite data recovery software has changed.
I recently had the opportunity to test EaseUS Data Recovery Wizard Pro and it simply blew me away.
I've been using a couple of EaseUs products for years, and I love them. But since I was accustomed to using other products for data recovery I had never really given this particular tool a try.
Well, someone mentioned it the other day so I decided to download it and check it out.
For my first test I dug an old SD memory card out of my desk drawer that had somehow become corrupted a while back to see if the EaseUs software would find and retrieve the photos that were stored on it.
I had long assumed those photos were gone forever because the photo recovery tools I usually use came up empty.
I inserted the bad SD card into my computer's card reader and fired up the program. It ran a scan on the card, and much to my surprise, it found over 260 pictures. And I had forgotten I had even taken most of them!
Needless to say, that was a very pleasant surprise.
Next, I used a SATA to USB adapter to connect a defective 3.5″ desktop hard drive to my PC. I had replaced this particular drive with an SSD because it started making loud clicking sounds and failed to boot the machine into Windows.
Just as with the memory card, it found thousands of files that could easily have been lost forever!
As you can imagine, I'm very pleased with how great EaseUS Data Recovery Wizard Pro works. And it couldn't be easier to use:
1 – Connect the drive you want to recover data from to your computer.
2 – Launch the program and allow it to scan your system for connected drives.
3 – Select the drive you want to recover files from and watch while it performs its scan.
4 – Select the files you wish to recover.
It really is that simple!
This software will recover files from pretty much any drive that isn't totally and completely dead. If it's a hard drive and the platter still spins, you'll probably be able to recover your files with this amazing tool.
Bottom line: There are plenty of data recovery products to choose from, but if you're looking for one that's extremely simple to use and extremely effective at finding and recovering lost files, I don't believe you'll find a better tool anywhere than EaseUS Data Recovery Wizard Pro.
Note: You can recover up to 2GB of data with the free version of this software, but you'll need to spring for the paid version if you need to recover more than that.
---