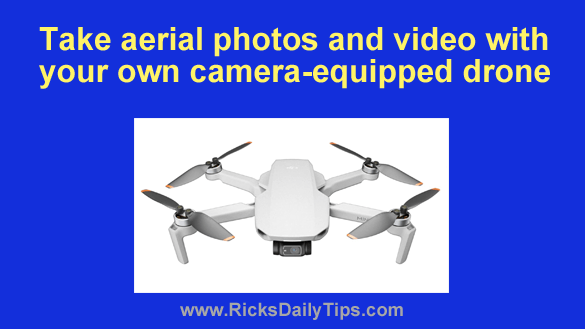 Note: The links in this post are affiliate links.
By now you've probably seen some of the numerous videos and photos that have been captured from the air using drones.
I have, and many of them are absolutely amazing.
Now, you can own your own camera-equipped drone, and plenty of models are available for less than $100. And even the ones that cost the least are a joy to use.
The possibilities for enjoying your own drone are endless. Here are just a few for you to consider:
1 – Capture aerial photos and video of your hometown and the surrounding areas for your own enjoyment (and for the enjoyment of your family, friends and neighbors).
2 – Help a local farmer locate a missing cow, horse or other creature.
3 – Upload some great videos of beautiful landscapes and interesting places to YouTube and earn a nice side income via Google ads.
4 – Contract with local real estate agents to capture aerial photos and videos of the properties they have listed for sale.
If you'd like to try your hand at drone photography without investing a lot of money, the extremely affordable SANROCK U52 Drone with 1080P HD Camera is a great way to get started.
This highly-rated model comes equipped with a built-in video camera that saves photos and videos directly to an SD card. And at less than 100 bucks (at the time of this writing) it's not going to break the bank.
Of course if your needs require it (and your budget allows it), you can choose from Amazon's full line of camera-equipped drones
with advanced capabilities.
Bottom line: Owning your own camera-equipped drone is both fun and affordable these days. Pick one out and give it a try!
---