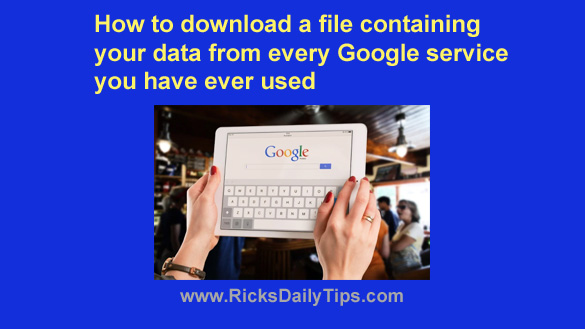 If you've been using the Internet for a while you've probably used several of Google's many services.
In fact, my guess is you use several of them on a regular basis.
For example, do you use Gmail?
How about YouTube or Google Maps?
Or perhaps the Chrome browser?
Although you probably don't use all of them, Google actually has dozens of popular online services and tools that are used by billions of people world-wide on a daily basis.
Did you know you can easily download your data from almost all of Google's services right to your computer or mobile device? 
Having a local copy of your Google data can come in quite handy at times (such as when you want to switch from Gmail to a different emailprovider, for example).
If nothing else, it never hurts to have a local "backup" copy of your Google data just in case your Google account gets hacked or removed by Google for some reason.
So how do you go about downloading all that massive amount of data? By using Google's handy Google Takeout tool!
Google Takeout makes it easy to download a single file containing the data from (almost) every Google service you have ever used.
As far as I can tell the only services that aren't supported by Google Takeout are Google's advertising tools (Adwords and Adsense).
Here's a list of everything you can download from your Google account to your local device using the Takeout tool:
Android Device attributes, performance data, software versions, and account identifiers
Favorites and galleries you've created on Google Arts & Culture
Your Blogger blogs, including posts, pages, comments and videos, as well as settings and your Blogger profile.
Your Google Calendar data
Bookmarks, history, and other settings from your Chrome browser(s)
Your Google Classroom classes, posts, submissions, and rosters
Your Cloud Print history and devices
Your Contacts and Contact Photos
Information provided to help others during crises (Crisis User Reports)
Responses saved with your Google Account from your participation in Google Research studies and projects.
Files you own that have been stored in your My Drive
Your Google Fit activity data
Data about your Google Account's registration info and account activity
Content metadata ingested as part of Google Cloud Search indexing flow, and user search activity data
Your ask and reply contributions to the Google Help communities including text and images posted
All data related to your Google My Business activity
Your saved passes, activity using virtual account numbers, and transaction history from Google services, like Google Play and YouTube as well as peer-to-peer payments via the Google Pay app
The titles and authors of your purchased and uploaded books in Google Play Books, plus notes and bookmarks
Data, including achievements and scores, from games you play via Google Play Games Services
Your Google Play Movies & TV preferences, services, watchlist, and ratings
Data about your app installs, ratings, and orders via the Google Play Store
Your Google Shopping order history, loyalty, addresses and reviews
Documents you have in your Google Translator Toolkit
Metadata which describes an application published in Google Workspace Marketplace
Your conversation history and attachments from Google Hangouts
Device, room, home and history information from the Google Home app
Notes and media attachments stored in Google Keep
Your Location History data collected while opted-in to Location History
Messages, attachments and User settings from your Gmail account
Your preferences and personal places in Google Maps as well as records of your starred places and place reviews
Records of your My Activity data along with image and audio attachments
Maps, layers, features and media stored in your My Maps
Data about the magazines, categories, and sources you are interested in via Google News
Files you have uploaded to Google Pinpoint
Your Posts On Google history data including the collections of account, posts, cameos, metrics data, and all uploaded images and videos on Posts on Google and Cameos
Settings and images from your Google Profile
Your purchases and reservations made using Google Search, Google Maps and Google Assistant
Your activity on Question Hub
Reminders that you created with Google
Collections of saved links (images, places, web pages, etc.) from Google Search and Google Maps
Your ratings, reviews, comments and other contributions to Google Search
Items you've added to your lists, shopped on Google, or checked off via your Google Shopping Lists
Images and videos you have uploaded to Google Street View
Data for your open and completed Google Tasks
Your saved Google Voice call history, messages and voicemails as well as current linked numbers
Watch and search history, videos, comments and other content you've created on YouTube and YouTube Music
Whew! As you can see, that's a LOT of data from a BUNCH of Google services, several of which you probably use on a regular basis.
Of course there are probably quite a few of these services that you don't use. The good news is you can easily exclude the unused services from the download file.
Now that you know exactly what types of stored info you can download with the Google Takeout tool, here's how to use it:
1 – Visit https://takeout.google.com/ and sign into your Google account (if prompted to do so).
2 – Uncheck every service that you don't use.
Note: If you only use a few of the listed services it'll probably be easier to simply click Deselect all and then re-select the services you actually use and want to download the info from.
3 – Scroll down and click the Next step button.
4 – Select the options you want to use.
5 – Click Create export.
6 – Wait for an email from Google letting you know that your export file has been completed (this could take quite some time, so be patient).
7 – Follow the instructions in the email Google sent you to complete the download process.
That's all there is to it. Now you know how to download ALL of your data from every Google service you have ever used (with the exceptions listed above) in one fell swoop.
---
Never miss a tip!  Click here to sign up for my free Daily Tech Tips Email Newsletter!