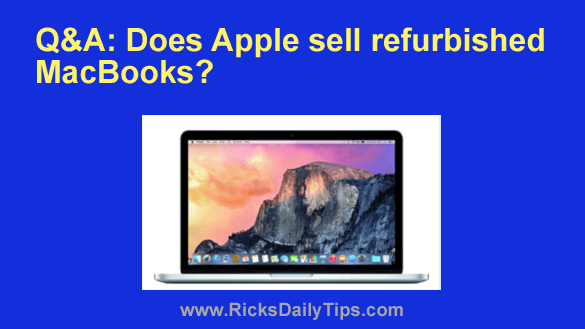 Note: The links in this post are affiliate links.
Question from Deaton:  My daughter is getting ready to turn 13 in a few weeks and I want to get her something really special for this very special birthday.
She's been wanting a MacBook, but the ones I saw in the store are really expensive so I'm thinking about getting her a refurbished one.
I've bought several refurbished Windows PCs in the past and mostly had great luck with them.
Does Apple sell refurbished MacBooks? And if they do, are they a good deal in your opinion?
Rick's answer:  I've had great luck with refurbished computers myself Deaton, and I do recommend them whenever I'm asked about them.
To answer your first question, Apple does indeed sell refurbished MacBooks, and the savings over buying one that's brand new can be substantial. In fact, you can actually save $200 (and sometimes even more) on some models.
To check out the refurbished MacBooks that are available at any given time, simply visit this page on the Apple website and click on Mac.
In regards to your second question, I do believe Apple's refurbished items are good deals.
Apple polishes up and rigorously tests every item they refurbish to ensure that it looks and works like brand new, then they slap a full one year warranty on it.
To be frank, I would personally trust a refurbished MacBook (or any other refurbished Apple device) that was sold by Apple themselves just as much as I would trust a brand new unit.
Bottom line: Refurbs can be great deals in my opinion, and Apple's own refurbs are among the very best in the industry.
By the way, Apple sells refurbished items in virtually every device category, not just MacBooks. To check out their current refurb deals, simply visit the page I linked to above and click the applicable selection.
And now, one final point…
If saving money is your primary concern you can potentially save even more by buying your daughter's refurbished MacBook from Amazon.
---