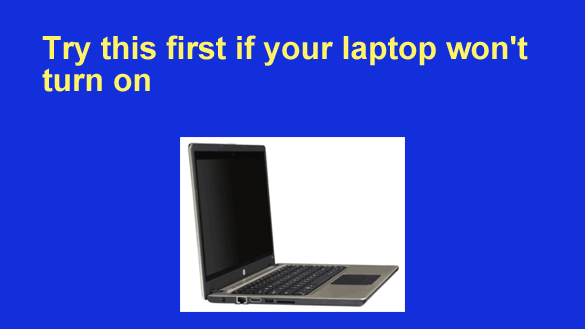 Note: The links in this post are affiliate links.
If you ever press the power button on your laptop and it fails to power up, there's a good chance that you won't need to replace it or pay for an expensive repair.
A "dead" laptop can be caused by several different issues, but one common cause is a simple transient power issue or some other transient glitch.
If you ever find yourself facing a laptop that won't turn on when you press the power button, try this before trying anything else: 
1 – If the laptop's power brick is plugged into an electrical outlet, unplug it from both the outlet and the laptop.
If it has a USB charger instead of a power brick, disconnect it from both the outlet and the laptop.
2 – Close the lid.
3 – If the laptop has a removable battery, turn the laptop over and remove it.
4 – Now turn the laptop back over and open the lid.
5 – Press the power button and hold it for about 30 seconds.
6 – Plug the power brick or USB charger back into the electrical outlet and connect it to the laptop.
7 – Press the power button and then release it the way you always do when you turn the laptop on.
8 – If the laptop powers up normally, shut it back down and reinstall the battery (if you in fact removed it) and then try to power it up again.
If all went well you'll know the issue was likely temporary and it should now be resolved.
If the laptop still fails to power up at all you'll need to either need to have it checked out at a computer repair shop or simply replace it.
---