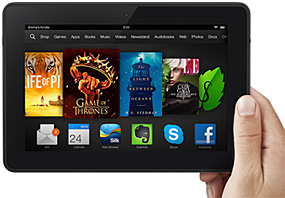 Question from Mona:  My son has been wanting a Kindle Fire tablet for a long time and I finally decided to get him one.
My problem is I can't order one online from Amazon because I don't have a credit card. I'll need to pay for it with cash.
Do you know of any stores where I might be able to buy one locally? Thanks.
Rick's answer:  The short answer to your question is yes, Mona. In fact, Amazon has released a long list of brick-and-mortar retail stores that sell Amazon devices. You'll find the entire list on this page.
If you happen to live in an area where you can't easily get to one of the stores on that list, all is not lost. You can in fact order one directly from Amazon even though you don't have a credit card. Here's how:
1 – Visit the Kindle Store on Amazon and find the Kindle Fire device that you'd like to purchase.
2 – Click the Add to Cart button to place the item in your shopping cart.
3 – Click the Cart button at the far right side of the dark-colored menu bar near the top of the screen.
4 – Click the Proceed to checkout button and follow the prompts on the pages that follow until you have the total amount for your order.
Note: Shipping should be free if the item you selected is over $25 so the total amount of the order should be the price of the Kindle itself plus any applicable sales taxes.
5 – Go to the nearest store that sells gift cards (most grocery stores and many convenience stores sell them nowadays) and purchase an Amazon Gift Card for the exact amount needed to pay for the Kindle Fire.
6 – Return home and complete your purchase on Amazon using the gift card to make the payment.
That's all there is to it Mona. Good luck, and enjoy watching your son use his new Kindle Fire tablet!
Bonus tip #1: Did you know that you can even shop on Amazon using cash? Well, you can, and this post explains how.
Bonus tip #2: Want to make sure you never miss one of my tips? Click here to join my Rick's Tech Tips Facebook Group!
Note: the links in this post are affiliate links.
---
Want to ask Rick a tech question? Click here and send it in!
If you found this post useful, would you mind helping me out by sharing it? Just click one of the handy social media sharing buttons below.