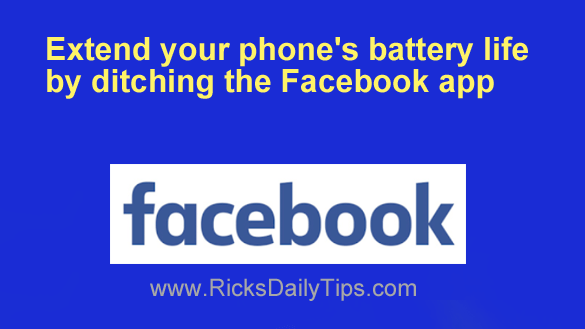 If you use Facebook on your smartphone, chances are you access it via Facebook's mobile app.
Do you frequently notice that your phone's battery charge is evaporating faster than a drop of water in the Mojave desert?
If so, the culprit could well be that app. 
While the app makes using Facebook easy and convenient, it's also a major battery hog that sips juice even when you're not using it.
And by the way, if you're concerned about online privacy, you should know that the Facebook app has access to virtually every piece of information stored on your phone.
So what's one to do?I recommend that you ditch the app and log in to Facebook using your web browser.
The browser will automatically default to the mobile version of the Facebook website which is virtually identical to what you'll see when using the app, but without the battery drain and all of those nosey "permissions".
To delete the Facebook app from your phone, just follow the steps listed below for your device.
If you have an iPhone:
1 – Tap and hold the Facebook app's icon until a menu pops up, then remove your finger.
2 – Tap Remove App.
If you have an Android phone:
1 – Tap the Settings icon (it looks like a 'gear' or 'cog').
2 – Tap Apps & notifications.
3 – If you see the Facebook app listed there, tap on it and then tap Uninstall.
If you don't see the Facebook app listed there, tap See all [x] apps, then tap on the Facebook app and tap Uninstall.
That's all there is to it. The Facebook app should no longer be on your phone.
If you were unable to uninstall it for some reason you can accomplish the same goal by simply disabling it.
Now that you've ditched the app from your device you can easily access Facebook by visiting Facebook.com in your preferred web browser and signing into your account.
---