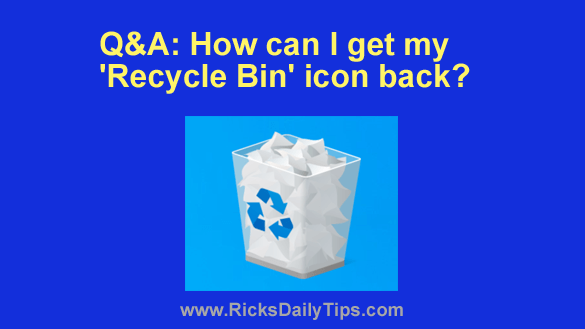 Question from Uneva:  I have somehow deleted the icon for the Recycle Bin from my desktop. How can I get it back?
My computer is an HP All-In-One with Windows on it.
Thanks for your help in advance. I really appreciate it.
Rick's answer:  It's very easy to accidentally delete an icon from the Desktop, Uneva. Just one errant click and drag is all it takes to get rid of something without even meaning to.
Luckily, it's very easy to display a missing system icon. Just follow the steps below to restore the Recycle Bin to your Windows Desktop:
1 – Click the Start button.
2 – Click the Settings icon (it looks like a "gear" or "cog").
3 – Click Personalization.
4 – Click Themes.
5 – Click Desktop icon settings.
6 – Check the box beside Recycle Bin, then click OK.
That's all there is to it. The Recycle Bin should now be back on your Desktop where it belongs!
I hope this helps, Uneva. Good luck!
Update from Uneva:  Thanks, Rick. The Recycle Bin is back on my desktop now.
Bonus tip: This post explains how to enable the F8 key for displaying the "Advanced Boot Options" menu so you can quickly boot your Windows 10 or Windows 11 PC into "Safe Mode".
---